AARON FORD GROSS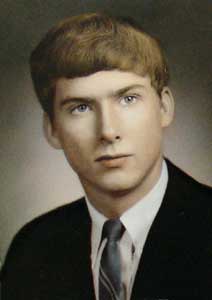 CLASS OF 1969
MAY 8, 1951 - DECEMBER , 2016
Aaron Ford Gross age 65 of Parker, KS died Friday December 2, 2016 at his home.
Aaron was born May 8, 1951 in Kansas City, KS. He was the fourth of five children born to Jack Waterson and Marjorie Deloris (Philips) Gross. He grew up in the Linn County area and attended grade school in the one room school house in Goodrich, Kansas. He attended high school in Osawatomie and enjoyed playing sports and participated in recreational ball after he graduated high school in 1969.
In January of 1970, Aaron started working for the Missouri Pacific Railroad as a brakeman and later became a conductor. When the Missouri Pacific merged with the Union Pacific Railroad, he was put on the reserve board from 1987 to 1992. During this time he ran a used car lot in Osawatomie with his brother and dad called Classic Body Shop and also worked at Guydon. In 1992 he went back to work for the Union Pacific Railroad until he retired in 2013. After retirement Aaron worked at Osawatomie State Hospital for 6 months.
On November 3, 1978, in Miami, OK Aaron married Regina Conrad. Together they have three children, Nathaniel, Amanda and Amilee. While Aaron and Regina were raising their kids he was involved in all their sport activities and love watching everything they were involved in. He loved taking his family on vacations. They made their home in Parker, KS where they have lived in the same house for 30 years.
Aaron was a scavenger. He would go to antique stores and thrift stores to find treasures. He restored gas pumps, tractors, bicycles and any petroleum memorabilia. In his spare time he cut firewood and loved spending time with his children and grandchildren. Aaron was quite but a prankster. Always tried to make people laugh.
Aaron was preceded in death by his parents.
Survivors include his wife of almost 40 years, Regina. Children Amanda (Derek) Grogan of Osawatomie, KS, Nathaniel Gross of Paola, KS, and Amilee Gross of Parker, KS. Three grandchildren Dalton, Martin, & Bentlee Grogan. Brother James (Debbie) Gross of Parker, KS. Sisters Brenda Winchester of Nevada, MO, Nancy (Ron) Day of Houston, TX and Loretta (Jan) Longenecker of Parker, KS. Along with many other family and friends.
Visitation: 6 - 8 PM Thursday, December 8, 2016 at the Eddy-Birchard Chapel
Services: 2 PM Friday, December 9, 2016 at the Eddy-Birchard Chapel
Burial at Goodrich Cemetery
Memorials are to the Aaron Gross Memorial Fund
Send Memorials in Care of Eddy-Birchard Funeral Home P.O. Box 430 Osawatomie, KS 66064