LUCILLE PIERCE KOELSCH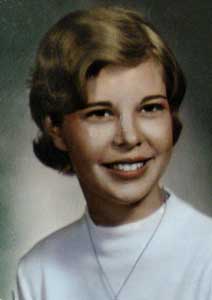 CLASS OF 1968
OCTOBER 20, 1948 - JANUARY 27, 2017
Lucille Koelsch, 68, of Paola, Kansas, died Friday, January 27, 2017 at Olathe Medical Center in Olathe, Kansas.
Lucille was born on October 20,1948. She grew up in Osawatomie, Kansas with her parents Rollie and Cora (Gray) Pierce. She was an only child. She attended the schools in Osawatomie and graduated from Osawatomie High School.
While in high school, she met Phillip Gonzales, Sr. They were later joined in marriage on June 21,1967. This marriage ended in divorce. They had three children together Phillip Jr, Tina, and Jessie.
Lucille met the love of her life George Koelsch and was joined in marriage to him on November 24, 1989 and remained married to him until her death.
Lucille was a certified medication aide until her second marriage and then she dedicated her time to her husband as a homemaker.
Lucille loved spending time with her family and friends. Some of her favorite things to do were playing cards and dice with her husband and close family friends Gary and Christine Yackle, Chris Yackle and his girlfriend Christy. She had a real passion for Bingo and enjoyed playing it with bingo girls Bonnie, Rena, and Dierra. Her favorite place to play Bingo was at the Paola Eagles.
Lucille enjoyed spending time with her grandchildren and you could see the pride in her eyes when she got to be with them. Lucille loved spending time with a close family friend Minnie Medina, who she always had lots of laughs with.
Lucille was always willing to help family and friends if they needed someone.
Lucille will be missed by many people.
She was preceded in death by her parents Rollie and Cora Pierce.
She is survived by her husband George, of the home; three children Phillip Gonzales Jr. (Alida) of Claremore, OK, Tina Gonzales (Bill) of Paola, KS, and Jessie Gonzales (Angie) of Pomona, KS; two step-children Heather Vinson (Jason) of Texas and Daniel Koelsch (Kara) of Texas; seven grandchildren Monica Walters (Dennis), Quentin Gonzales, Joseph Gonzales, Lauryn Gonzales, Ally Hutchinson, Gavin Gonzales, and Sophia Gonzales; four step-grandchildren Matthew and Juilanne Vinson, Emma and Every Koelsch; three great-grandchildren Lily, Ariyah, and Jasmine Walters; also, an honorable mention grandchild Katie Hart, sister to Monica Gonzales Walters.
Visitation:
Tuesday, January 31, 2017 from 5:00pm to 7:00pm
Penwell-Gabel - Osawatomie Chapel, 605 O'Neal Avenue, Osawatomie, KS 66064