MILDRED E. POLLEY LEVERIDGE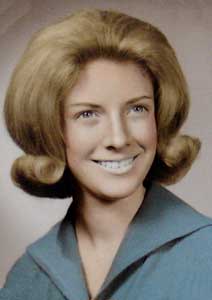 CLASS OF 1965
NOVEMBER 21, 1947 - OCTOBER 13, 2017
On the evening of October 13, 2017, Mildred (Mlle) passed away peacefully from complications of Mantel Cell Lymphoma. Mlle was being visited and comforted by friends and family members at the home of her daughter in Arlington, TX at the time of her passing. We laughed, loved and were ornery to the end…
Mlle Leveridge was born in the city of Paola in Miami County, Kansas on November 21, 1947. She was the third child of Avis and Donald L. Polley. She was preceded in death by her husband Rex W. Leveridge, father Donald L (Jack) Polley, mother Avis Polley and her two sisters Karen Kellogg and Evelyn Bertone.
Mlle is survived and remembered by her two children, her son Shawn A. Leveridge and his wife Tracie of Mansfield, Texas and her devoted best friend and daughter Shane E. Burton-Simpson and dear son-in-law Brad Simpson of Arlington. She is also survived by her adored grandchildren Cherae Burton, Caine Burton, Thomas Leveridge, Creek Simpson and Chloé Simpson and her dog and best fur friend, Bentley. Her honorary son's Anthony McCann and Alvin Robertson as well. Mlle's beloved friends; Patsy Terrell, The Sunshine Girls (Delores Lewis, Lynn Nulty, Beverly Escobedo, Gena Weatherford), Christine and Verne Walker and many, many more.
Mlle graduated from Osawatomie High School in 1965 as Solitarian followed by her marriage to Rex William Leveridge on November 26, 1965. Her family moved to Houston, Texas in 1978 and became a longtime Irving resident in 1987. Mlle loved her family and worked tirelessly to be a good mother, grandmother and a friend. She worked for more than 25 years in the financial industry. Followed by 15 plus years with the City of Irving where she made many lasting friendships.
Mlle will be dearly missed and will forever be loved by all whom she knew. We will celebrate her life on Saturday, October 21, 2017 at Ben F. Brown's Memorial Funeral Home, 707 N. MacArthur Blvd, Irving, TX with Anthony McCann as pastor. Memorial donations may be made to The Leukemia & Lymphoma Society at www.lls.org. Her ashes will be laid to rest in Moore's Memorial Garden, in Arlington, Texas.
May the Light of GOD surround Mlle, and may she shine even brighter in His arms in Heaven.
The family will receive friends from 6:00 to 8:00 p.m., Friday, October 20th, 2017 at Ben F Brown's Memorial Funeral Home, 707 N. MacArthur Blvd in Irving. Service will be 10 a.m., Saturday, October 21st, 2017 in the funeral home chapel with Anthony McCann officiating. Flowers for the Casket are arranged by Lynn Nulty and provided by the Sunshine Girls.