CHERYL "DIANNE" HAVENS REEVE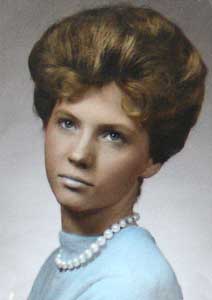 CLASS OF 1964
SEPTEMBER 19, 1946 - DECEMBER 14, 2017
Cheryl "Dianne" Reeve - age 71 of Osawatomie, KS - died Thursday December 14, 2017 at Olathe Hospice House in Olathe, KS.
Dianne was born September 19, 1946, in the family home in Osawatomie, KS. She was the oldest of a set of twins born to Earl Russell "Hank" Havens & B. Elizabeth (Douglas) Havens. Dianne was the fourth of five children in the family & grew up and attended schools in Osawatomie. She graduated with the Osawatomie High School class of 1964.
On October 31, 1963, Dianne and Billie Joe Reeve were united in marriage in Rantoul, KS. Bill entered the military (Navy and then Air Force) and was stationed out of Olathe Naval Detachment. Dianne and their oldest child moved with Bill to his new duty station in Tucson, AZ. He was then re-assigned to an Air Base in Germany and the family moved with him. After 3 years in Germany, Dianne, Bill and two of their children moved back to Kansas ending up back in Miami & Franklin County area, eventually moving back in to Dianne's birth home in Osawatomie. Together, the couple had four children; Cheri, Billie Joe, Shani and Erica.
Dianne worked very hard most of her life, thereby instilling a tremendous work ethic in her children. She worked for Mode-O-Day sewing factory both in Osawatomie and Ottawa as a Finisher for over 13 years before it went out of business. She was a clerk at Safeway Grocery Store in Osawatomie for a number of years then moved on to Shift Manager at Pizza Hut in Osawatomie. She also worked for Graven Images in Greeley, KS before going to work at a sewing factory in Paola, KS. Dianne was then able to combine working with her passion and love for animals at the Osawatomie Pet Clinic as a kennel helper. Dianne started in the custodial department at the Osawatomie School District and simultaneously at the Osawatomie State Hospital. After a few years, Dianne started working in the kitchen at Trojan Elementary while continuing her custodial work at the OSH. In October of 2011, she retired for the first time but decided in 2013 to return to the work force part-time so she went to work back at the Osawatomie State Hospital only this time, in the dietary/kitchen for two years. In 2015, due to health issues, Dianne retired completely.
Dianne loved & enjoyed her children, grandchildren, great grandchildren, nieces & nephews as well as her four legged kids and grandkids. Her hobbies included tending to her rose bushes, irises, peonies and flower beds. Through the years, she also had large vegetable gardens and did quite a bit of home canning which was enjoyed by the entire family. Dianne also loved and cared deeply for her daughters' best friends, whom she always considered her "adopted" daughters and her grandsons' friends as her "adopted" grandsons.
Dianne was preceded in death by her husband Billie Joe Reeve, infant son Billie Joe Reeve, both parents & step-father Blaine M. Smith, sister Linda (Havens) Tallackson, and two grandsons Dustin "Dusty" M. Maimer and Daniel B. Maimer.
Survivors include daughters Cheri (Mark) Maimer of Green Ridge, MO, Shani Reeve of Coasta Mesa, CA and Erica (Chris) Smith of Osawatomie, KS, Grandchildren Stephanie (Donnie) Blackman of Osawatomie, KS, Jacob "Jake" M. Randall of Topeka, KS, Kaytlin Smith of Osawatomie, KS and Wade G. Smith of Osawatomie, KS and three great grandchildren Haven, Keeton and Hudson Blackman of Osawatomie, KS. Two brothers Keith Goetz of Corona, CA and Charles "Charlie" (Paula) Goetz of Seal Beach, CA and her twin sister Gerry Sue Mundell of Paola, KS, sister-in-law Dee (Larry) Lombard of Higginsville, MO, Helen Karigan of Ottawa, KS, Pat (Terry) Walters Salina, KS, brother-in-law Harold "Sonny" (Charlene) Reeve Lane, KS, as well as many nieces, nephews, and other family & treasured friends.
Visitation 6-8 PM Monday, December 18, 2017 at Eddy-Birchard Funeral Home
Service 10 AM Tuesday, December 19, 2017 at Eddy-Birchard Funeral Home
Burial Osawatomie Cemetery
Memorials are to the Humane Society of Greater Kansas City and may be sent c/o Eddy-Birchard Funeral Home, P.O. Box 430 Osawatomie, KS 66064