RALPH "FREDDIE" STEWART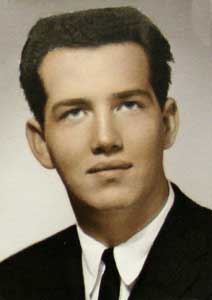 CLASS OF 1963
MARCH 15, 1945 - OCTOBER 6, 2015
Ralph "Freddie" Frederick Stewart, 71, Olathe, passed away unexpectedly Saturday, Oct. 8, 2016, at the VA Hospital surrounded by the ones he loved most.
Ralph was born March 15, 1945, in Osawatomie. He was the second of five children born to Ralph Wilbur Stewart and Mary Loree Defore Stewart.
Ralph "Freddie" attended the Osawatomie schools and graduated from Osawatomie High School in 1963.
He served in the U. S. Navy from 1963 to 1967 aboard the USS Maury and the USS Jason. He was honorably discharged as an SFM3.
He started his career in the Waterworks Industry as a salesman, which lasted for 46 years. Throughout his career, he owned and managed several companies. Ralph was a member of the American Water Works Association.
Ralph married Judy Eugenia Burton Davis in 1966. This marriage ended in 1982. While together, they had two daughters and one adopted son.
In 1999, he married Kay Calloway Stewart and gained a stepdaughter, Ashley Durocher. This marriage ended in 2008.
Ralph belonged to the Masonic Lodge in Wichita and was a former member of the Abdullah Shriners of Sedgwick County.
He was preceded in death by his parents, his infant daughter Shennille Sue Stewart, and a brother Raymond Stewart.
Ralph is survived by his daughter, Samantha Howard (Michael) of Paola; adopted son, Darren Stewart; brother, Dannie Wilbur Stewart of Block; two sisters, Kathleen Loree Oldham and Vickey Lee Kasper, both of Osawatomie; granddaughters, Taylor Labra of Olathe and Cassidy Labra of Spring Hill; and grandsons, Brad Howard of Spring Hill and Brent Howard of Overland Park.
Funeral will be at 10:30 a.m. Friday, Oct. 14, at Penwell-Gabel Funeral Home, 305 N. Pearl St., Paola, KS. Visitation is from 6 to 8 p.m., Thursday, Oct. 13, at the funeral home.
Memorials are to the American Legion Riders of Paola.