JAUNITA PEARL PERKINS WALKER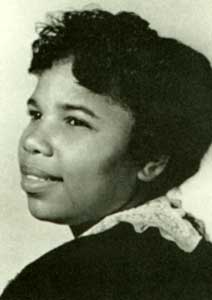 CLASS OF 1961
OCTOBER 6, 1943 - JULY 8, 2016
Juanita Pearl Walker age 72, of Paola, KS passed away on Friday, July 8, 2016.
Juanita was born October 6, 1943 to Edward Clarence Perkins and Margaret Fuller Williams, they resided in Osawatomie, KS.
She had an infectious personality and a heart as big as her smile. She was known as a loyal friend and a loving mother, grandmother and aunt.
In 1963, she married Pinkey Lee Walker, and during that marriage they had three children, Veronica Lynn, Pinkey "PJ" Lee Jr. and Tranisha Rene. That marriage came to an end in 1981 and Juanita raised all three of her children on her own.
Juanita worked for the Osawatomie State Hospital and then the SRS until she retired in 2006, after 44 years of service. She spent the majority of her time after retirement relaxing and enjoyed by watching her grandchildren play sports, dance and attending church.
Juanita had battled and overcome several ailments until January of this year when she was diagnosed with lymphoma. For six months she battled cancer with her family and friends behind her until she finally could not go on any further. Even until the end when she could no longer physically smile her eyes said it all and gave us comfort.
She is survived by her sister, Mary Van Trece, Kansas City, MO; her children, Veronica Lynn Walker, Pinkey "PJ" Lee Walker Jr. and wife Amber, Tranisha Rene Walker Garrett and husband Quincy, nine grandchildren, Chase Walker, Cameron Walker, Corey Walker and wife Elisabeth, Aubrey Walker, Avery Walker, Macaela Garrett, Mia Garrett, Justin Dunmars and Anthony West and a host of cousins, nieces and nephews.
The family suggests contributions to the Miami County Cancer Foundation and to the Olathe Hospice House.