CLYDE R. McDOUGAL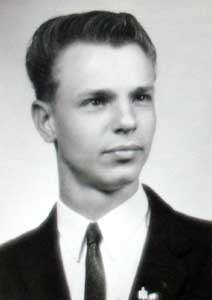 CLASS OF 1960
OCTOBER 21, 1942 - FEBRUARY 21, 2018
Clyde R. McDougal, 75, Paola, KS, passed away Wednesday, February 21, 2018 at the Olathe Medical Center.
Visitation will be 4:00 – 6:00 p.m. Sunday, February 25, 2018 at Dengel & Son Mortuary, 305 N. Pearl St. Paola, KS. Funeral service will be 10:30 a.m. Monday, February 26, 2018 at Cross Point Assembly of God, 1016 N Pearl St., Paola, KS. Family and friends are respectfully welcome. The family suggests memorial contributions In lieu of flowers be made to Cross Point Assembly of God.
Clyde was born October 21, 1942 to the late Woodrow and Clara McDougal in Denver, CO. He graduated from Osawatomie High School in Osawatomie, KS in 1960. He married Cheryl Creach on June 2, 1961.
Clyde and Cheryl lived in Paola, KS and raised their two children Teresa and Christopher, both of whom graduated from Paola High School. Clyde was an avid gun collector, sportsman, golfer, and enjoyed camping and boating. Clyde began his career working as a buyer for PACCAR for nearly 20 years and later worked for Sokkia. Following his retirement from Ottawa Truck in 2007, he and Cheryl spent many years traveling throughout the country and enjoying time with their children, grandchildren, and extended family. He was known for filling a room with laughter and practical jokes.
Clyde was preceded in death by his parents and one brother Walter McDougal. He is survived by his loving wife of 56 years, Cheryl; daughter Teresa and her husband Richard; son Christopher and his wife Nancy; sisters JoAnn Cornett, Sharon Madden, Jeannie Miller; brother Woodrow; grandson Tanner and his wife Leslie; grandsons Mason, Blaine, and Zane.