CHRISTINA ANN McCOY AULT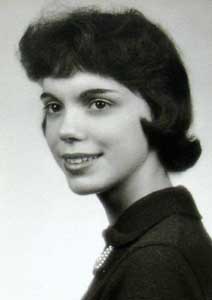 CLASS OF 1960
April 26, 1942 - August 24, 2017
Christina Ann Ault, age 75, of Osawatomie, died Thursday, August 24, 2017, at Olathe Hospice House, in Olathe, Kansas.
Christina was born April 26, 1942, in Louisburg, Kansas. She was the second of five children born to Charles Elmer and Maxine Marie (Boling) McCoy. She grew up and attended school in Osawatomie.
She graduated with the Osawatomie High School Class of 1960.
After high school, Christina attended nursing school at KU Medical center. Then six months into the program, she was involved in a car accident and spent 11 months in the hospital and countless months in therapy. Christina started working as a switchboard operator at St. Marys. She then went to work at Electronic Research.
On January 10, 1970, Christina and David Ault were united in marriage in Osawatomie. They made their home in South Kansas City, Missouri, and then later moved to Belton, Missouri.
In 1972, Christina started working for the Internal Revenue Service. She worked for many departments. After 33 years of service, Christina retired from the IRS in 2005.
Christina loved spending time with her family and friends. Her family was very important to her and her friends became family. She enjoyed playing cards and watching Royals baseball. She was a member of the 1st Baptist Church of Osawatomie.
She was preceded in death by: her parents; brothers, Harry and Charles Harold McCoy; and brother-in-law, Donald Lammers.
Survivors include: husband, David, of the home; daughter, Jill Ault, of Belton, Missouri; sisters, Millie (Buddy) Burgoon, of Beagle, Kansas, and Sue Lammers, of Livonia, Missouri; four grandchildren, Christian, Brandon, Alexis and McKenzie Ault; and one great-granddaughter, Avery Ault; numerous nieces, nephews and great- nieces and nephews. Along with other family and friends.
Celebration of life was August 27, 2017, at the Carr Apartment complex.
Memorials are to the Olathe Hospice House or the OHS Alumni Class of 1960, and may be sent c/o Eddy-Birchard Funeral Home, P.O. Box 430 Osawatomie, KS 66064.