James 'Tom' Thomas Karigan, Jr.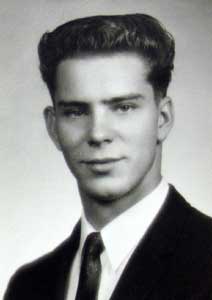 CLASS OF 1960
JANUARY 21, 1942 - JUNE 18, 2017
James "Tom" Thomas Karigan Jr., 75, of Olathe, passed away on June 19, 2017 at Olathe Medical Center surrounded by his loving family. He was born on January 21, 1942 to James and Zella (Chancellor) Karigan in Sedalia, MO.
Tom was a member of Prince of Peace Church. He retired from Delco Battery after 32 years. Upon retirement, he belonged to the Olathe Bass Club. He enjoyed all sports, especially fishing with his Bass Club buddies. Most importantly, he loved spending time with his grandchildren and his wife.
Tom is survived by his loving wife, Carole; children, William Karigan (Tracy), Kimberly Karigan (Tim), Starla Cushman, Steve Reynolds, Jeff Reynolds (Robyn), Brent Reynolds, and daughter-in-law Amy Reynolds; grandchildren, Carson Reynolds, Madelon Cushman, Callie Reynolds, Bryce Karigan, Ashley Reynolds, Tyson Cushman, Megan Reynolds, Chloe Reynolds, Reagan Reynolds, Kori Karigan, and Hunter Fox; brother John Karigan (Lila) and many nieces and nephews.
He was preceded in death by his parents, and brother, Gene Karigan.
The family will receive friends for a visitation from 7-8:15pm on Thursday, June 22, 2017, at Penwell Gabel Funeral Home in Olathe, with Rosary following at 8:15pm. Mass of Christian Burial will take place at 10am on Friday at Prince of Peace Catholic Church in Olathe. Burial in Oak Lawn Memorial Gardens.
In lieu of flowers, memorial contributions may be given to Prince of Peace Catholic Church and Catholic Charities.
Visitation:
Thursday, June 22, 2017 from 7:00pm to 8:15pm
Penwell-Gabel - Olathe Chapel
14275 South Black Bob Road
Olathe, KS 66062
913-768-6777
Rosary:
Thursday, June 22, 2017 from 8:15pm to 8:30pm
Penwell-Gabel - Olathe Chapel
14275 South Black Bob Road
Olathe, KS 66062
913-768-6777
Service:
Friday, June 23, 2017 at 10:00am
Prince of Peace Catholic Church
16000 W 143rd St,
Olathe, KS 66062
Interment:
Oak Lawn Memorial Gardens
13901 S Blackbob Rd,
Olathe, KS 66062