LELA MAY BIRCHARD BROWN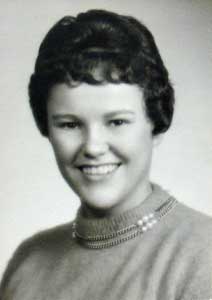 CLASS OF 1960
JUNE 26, 1942 - FEBRUARY 24, 2018
Lela May Brown, age 75, of Osawatomie, died Saturday, February 24, 2018 at Olathe Hospice House.
Lela was born in Osawatomie, at 200 Brown Ave,the home of her grandparents, W.M. and Eva Birchard, on June 26, 1942, She was the third of four children born to Willis W. and Edyth (Horn) Birchard. Lela attended school at Osawatmie and graduated with the Osawatomie High School class of 1960.
On December 30, 1961, Lela married her high school sweetheart, Larry Brown. To this union, they had one daughter, Terri, born on February 2, 1968. They made their home in Osawatomie.
Lela served as a member and past president of many organizations, including OHS Alumni Association twice, ladies gold association, local JC Jaynes and Delta Epsilon. Shw was a member of Kansas Bowling Association and several card clubs. In her early years, she was a sponsor of Calling All Girls Clube and Jobs Daughters Club. Her hobbies included playing bridge and pitch, going to the casino, working on Sudoku puzzles and playing Free Cell on her IPad. She was a member of the 1st Baptist Church of Osawatomie.
Those who preceded her were: her parents; one sister, Wilma M. (Jack L) Johnson; two nephews, Larry R. Johnson and Mike Baldwin.
Survivors include her husband of 56 years, Larry, daughter, Terri Ann Deoss; her son-in-law, W. Dean DeMoss; and three granddaughters, Erin (Curtis) Musgrave, Tiffany Danielle DeMoss, and Allison Paige DeMoss, all of Osawatomie; one sister, Deana (Hank) Boedicker, of Paola, Kansas; and one brother, Willis R. (Judy) Birchard, of Ottawa, Kansas; along with several nieces and nephews, whom are dear to her heart.