BARBARA ANN RULE COUTURE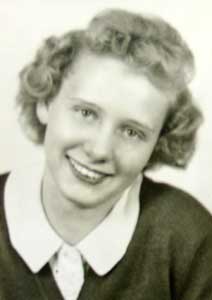 CLASS OF 1949
FEBRUARY 29, 1932 - AUGUST 7, 2017
Barbara Ann "Bobbie" Couture, 85, born February 29, 1932 to Ray and Dorothy Rule in Portsmouth, VA and went to be with the Lord on August 7, 2017.
She was employed by Mountain Bell as a telephone operator. She also worked for numerous financial institutions in Pueblo.
Barbara is survived by her husband of 67 years, Albert Couture; daughters, Carolyn Corty and Jeanette (Jim) Mulay; grandchildren, Torin (Jodi) Corty and Audrey Corty.
Funeral Mass was held August 16, 2017 at Christ the King Catholic Church. Interment, Imperial Memorials Gardens.