ZELLA MAY ELKINTON BERRY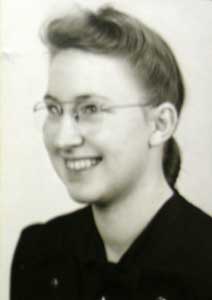 CLASS OF 1949
MARCH 20, 1931 - DECEMBER 1, 2017
Zella May Berry, 86, died Friday, December 1, 2017 at St. Catherine Hospital in Garden City. She was born March 20, 1931 in Osawatomie, Kansas the daughter of Ivan & Zelma (Newer) Elkinton.
Zella grew up in Osawatomie where she attended school and graduated from Osawatomie High School in 1949. She lived in Salina, Kansas before moving to Springfield, Mo.
Zella worked at St. John's Hospital/ Mercy Memorial Hospital from July 1983 to October 2012. She worked as a health information records keeper and as the health information management services associate. Throughout her life, Zella worked 2 to 3 jobs at a time and continued working until she was 81 years old. She left her work and moved to Garden City, Kansas to help her sister Thelma Whetstone who had a stroke.
Zella had a love for decorating for weddings, the holidays especially Thanksgiving, Christmas, and July 4th. She also stayed very involved with her high school friends. She attended reunions and loved decorating and entertaining her high school alumni friends from Osawatomie. She continued to stay in touch with several friends over the years. In 2013, Zella had a stroke, and both she and her sister Thelma moved into Homestead Nursing Home in Garden City.
Survivors include two nephews Phil & wife Joy Whetstone of Nardin, Oklahoma and Gary & wife Gay Whetstone of Garden City; and numerous great-nieces and nephews. Zella is preceded in death by her husband John Berry who she was married to for 7 years. She is also preceded in death by her parents and a sister Thelma Whetstone.
A graveside service was held December 6, 2017 at the Beagle Cemetery in Beagle, Kansas. The family suggests memorials given to the donor's choice in care of the funeral home.