JOANNE BROOKS STONE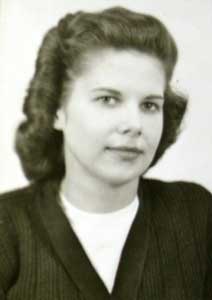 CLASS OF 1949
FEB 22. 1931 - JUL 27, 2017
Jo Anne Stone, 86, long time resident of Osawatomie, passed away on July 27, 2017.
She was born February 22, 1931, to Bill and Nellie (McMaster) Brooks, in Greeley, Colorado.
Jo Anne moved with her family to Osawatomie during grade school and graduated from Osawatomie High School in 1949. She remained active in and loved the Trojan Alumni.
Jo Anne married William Ray Hays in 1949, and had two children, William Ray Jr., and Brenda Jo.
After William Sr. passed in 1960, Jo Anne began her long career working as administrative assistant to the superintendent for the Osawatomie School District and remained there until her retirement. She treasured her years working with George York and Ernest Swenson.
Jo Anne re-married in 1983 to Merle Stone.
Jo Anne is survived by: her two children, William Hays and Brenda Pfaff; her five step-children; her grandchildren, Michael Pfaff, Adam Hays, Jason Pfaff, Brandon Hays, David Pfaff and Bonnie Anne Pfaff Johnson; her 12 great-grandchildren; and many more beloved relatives.
She was preceded in death by: her husband, Merle; her parents; her brother, William A. Brooks; and sister, Mary Louise Brooks.
In lieu of flowers, memorial contributions may be given to the Osawatomie High School Alumni Association Scholarship Fund.
Burial will be in Osawatomie Cemetery beside her first husband.