LUCILLE ANN WALLER WEAVER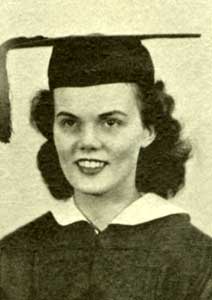 CLASS OF 1948
JUNE 10, 1930 - FEBRUARY 2, 2018
Lucille Ann (Waller) Weaver, age 87, of Osawatomie, went home to be with Jesus on the morning of February 2, 2018, at Select Specialty Hospital, in Kansas City, Missouri.
Lucille was born in Osawatomie to parents, Harvey Centinel and Iona May (Chadwick) Waller and big sister, Roberta May (Waller) Clark, on June 10, 1930.
A life-long Osawatomie resident, Lucille graduated from Osawatomie High School in 1948.
On December 5, 1954, Lucille and Cloman Dennison Weaver wed, at the First Baptist Church, in Osawatomie.
She was encouraged to go to college, so she went on to take courses at Washburn in Topeka, Kansas, and then graduated with her teaching degree from Ottawa University, in Ottawa, Kansas.
Later, she earned her Reading Specialist certification from Webster University. Lucille taught in Osawatomie, Drexel, Missouri, and retired from Spring Hill School District.
Lucilles passion in life was spending time with her family. Getting together for birthdays, holidays, or no occasion at all would suit her perfectly. She also loved gardening, tending to anything that bloomed. Lucille was a lifelong member of the First Baptist Church of Osawatomie.
Survivors include: her daughters, Julie Weaver, of Osawatomie, Heather (Roger) Strope, of Jefferson City, Missouri, Paula (Rob) McMullen, of Spring Hill, Kansas; her son, Kent Weaver, of the home; grandchildren, Samuel, Nathaniel and Savannah McMullen, all of Spring Hill; step-granddaughter, Tara (Shane) Ravenscroft; step-great-grandson, Logan Worrell, all of Shawnee; and many other relatives and friends.
Lucille was preceded in death by: her husband; her parents; her sister; and one son-in-law, Randy Smith.
Visitation was Friday, February 9, and the funeral service was February 10, both at Eddy-Birchard Funeral Home. Burial at Osawatomie Cemetery.