CONNIE NICHOLS SHEEHAN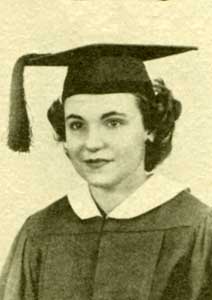 CLASS OF 1948
JUNE 10, 1930 - JUNE 20, 2014
Connie Lee Sheehan, age 84, of rural Osawatomie, Kansas, died June 30, 2014 at Nottingham Health and Rehab in Olathe with her family by her side.
Connie was born June 10, 1930 at Osawatomie, Kansas. She was the daughter of Roland "Nick" and Gertie (Allard) Nichols. She grew up in Osawatomie and graduated from Osawatomie High School with the Class of 1948. Connie's father died in 1963.
Connie and Mike Sheehan were married May 22, 1948 at Paola, Kansas. They made their home in rural Osawatomie and became the parents of three children. Connie and Mike owned and operated a dairy farm until 1990. Connie had also worked as a cook at the West School in Osawatomie. She had also been the secretary at the First United Presbyterian Church for Reverend Don Parnell. She retired in the early 90's.
Connie's favorite pastime was the time she spent with her family. She also liked to be outdoors, mowing and fishing. She enjoyed reading a good book. Connie was a good cook. Her happiest times in life were living in the A-framed cabin that her father-in-law and mother-in-law built by the lake on their farm.
She was a member of the First United Presbyterian Church in Osawatomie.
She was preceded in death by her parents, her step-father, and an infant brother.
She is survived by her husband Mike of the home; her children and their spouses Cheri Dragoo (Nile) of Beatrice, Nebraska, Dennis Sheehan (Marie) of Olathe, and Jodi Grandon (Scott) of Paola; 9 grandchildren Jim Crowl, Travis Mann, Ty Dragoo, Wendy Miller, Brandy Sosa, Dennis Michael "Mikey" Sheehan, Jr., Brooke Michelle, Alissa Drake, and Cali Drake; 11 great grandchildren JC, Ayla, Ellie, Kennedy, Quinn, Savannah, Adriana, Jacob, Maya, Dylan, and Eva; other relatives and friends.
No Visitation. Services Saturday, July 5, 11:30 AM.