FRANCHELLE MEEK CLIFF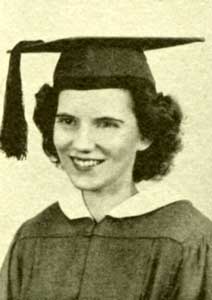 CLASS OF 1948
OCTOBER 24, 1930 - JUNE 22, 2016
Franchelle M. Cliff was born in Osawatomie, Kansas on October 24, 1930 to Kenneth F. Meek and Frances H. Meek.
She passed away in the comfort of Collier Hospice at Lutheran Hospital in Wheat Ridge, CO on June 22, 2016 following a sudden illness. During her hospice stay, Franchelle was comforted by many friends and family members.
At the age of three Franchelle went to live with her grandparents L.B. and Ursa Meek and, following their deaths, with her Uncle Mac and Aunt Maxine Steele.
Franchelle was a gifted student making the High School Honor Society as a junior. She was a gifted musician playing the flute, piccolo, and piano. Her beautiful alto voice was shared throughout her life in school as well as in the church choir at Central Christian Church in Denver.
Fresh out of high school at age 17, Franchelle began an office career in the oil industry starting as a secretary/stenographer and ending as an executive secretary. She worked for companies in Osawatomie and Garnett, KA; Portland, OR; Tulsa, OK; and Denver, CO.
In Denver Franchelle met and married Murray J. Cliff. In 1969, Franchelle lost Murray in a tragic death while he was working in an Arizona desert. During the same year, her Aunt Maxine Steele died in December. For Franchelle, these two losses were debilitating for several years. It's a testimony to her resilience and faith that she found a path to make that huge, and generous heart -so wounded by loss- even warmer.
After Franchelle recovered, she began a second career at the Central Christian Church (Disciples of Christ) in Denver and then at the Tennyson Center for Children.
After retiring, Franchelle volunteered at Tennyson Center for Children, Central Christian Church in Denver, and The Christian Church Regional Office in Denver.
The places where she volunteered always provided a desk with a drawer filled with chocolate candy, and a pot of coffee near by!
Franchelle's greatest joy was her family of friends that she gathered throughout her life. Franchelle kept each of her friends supplied with newspaper articles, jokes, and cartoons that dealt with their interests.
Another great pleasure was returning to Osawatomie each year for the annual high school alumni meeting on Memorial Day Weekend. At age 85, she made her last trip to the annual alumni meeting in May just before her death.
All her friends and family members will miss that wiggly-giggly hug, her giving spirit, and the joy of life that flowed from heart.
Left to cherish her memory are her cousin Mac Steele, Jr. wife Olivia and son Andrew, along with her beloved family of friends.
In lieu of flowers, a memorial may be made to the Tennyson Center for Children
(www.tennysoncenter.org)
Memorial service will be held at Central Christian church (Disciples of Christ), 3690 Cherry Creek S Drive, Denver, CO on July 9, 2016 at 11 am.