MARIANNE LUCAND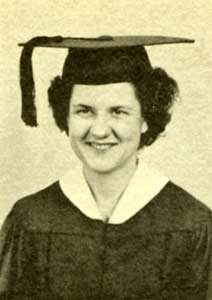 CLASS OF 1948
MARCH 26, 1930 - DECEMBER 5, 2001
Marianne Lucand, 71, Osawatomie, died December 5, 2001 in Olathe Medical Center.
She was born March 26, 1930 in Fort Smith, AR, the daughter of Felix Eugene Lucand, Jr. and Lillian A. Poole Lucand. The family moved to Osawatomie in 1933 where she attended local schools, graduating from Osawatomie High School with the Class of 1948.
She and Max Harvey Caldwell were married in 1950 in Osawatomie. They became the parents of three children. They were later divorced.
She worked as an aide in area nursing homes. She was a caregiver, as evidenced by her devotion to caring for her mother. She also worked with her parents in the Lucand Paint and Electric Store on Sixth Street in Osawatomie.
Survivors include her children, Max D. Caldwell of Fontana, Mark E. Caldwell of Fort Myers, FL, and Rebecca Sue Sharp of Osawatomie; her mother, Lillian Lucand of Osawatomie; seven grandchildren; and seven great-grandchildren.
She was cremated and services were private. Arrangements were under the direction of Eddy-Birchard Funeral Home.
Memorials were to the American Cancer Society.