EARL LEROY 'SONNY' KEAST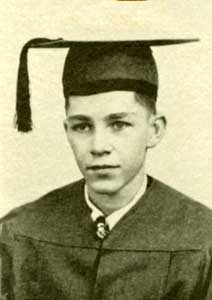 CLASS OF 1948
AUGUST 10, 1930 - NOVEMBER 26, 2016
Earl LeRoy "Sonny" Keast age 86 of Osawatomie, Kansas passed away Saturday November 26, 2016 at the Life Care Center of Osawatomie.
He was born August 10, 1930 in Osawatomie, Kansas. He was the second of four children born to Earl Kenneth and Emma Olive (Weippert) Keast. He grew up and graduated from Osawatomie High School with the class of 1948. Then he served in the military for 2 years in Korea.
Sonny and Connie Thoms were united in marriage on August 17, 1953. Together they had three sons Kent Nelson, Kirk Nolen, and Guy Lynn. Sonny enjoyed coaching the boys little league baseball teams. Kirk passed away June 17, 2007 and Guy on August 25, 2009.
He worked for Missouri Pacific Railroad in the locomotive shops in Osawatomie until they closed in 1957. He then began his career working for Bendix which later became Allied Signal. After 30 years of working for Allied Signal, Sonny retired. Sonny and Connie loved going out to eat, and his favorite place was Chen's Chinese in Paola. Sonny enjoyed tending to his yard in his free time and had several pets over the years to keep him busy.
After 27 years of marriage Connie was able to get Sonny onto the dance floor, teaching him the dance moves she knew and it wasn't long before he was teaching her! Sonny loved to fast dance and Connie couldn't keep him off the dance floor. They also enjoyed going to school programs for their grandkids over the years.
He is preceded in death by his parents, two sons Guy and Kirk, brothers Larry and Carl and sister Lennie.
Sonny is survived by his wife of 63 years, Connie, son Kent and his wife Tammy, grandchildren Nicholett Benavides, Kirk, Carl, Tyler and Tabitha Keast and 6 great grandchildren. This beloved man shall be dearly missed by all his family and friends.
Visitation 1-2 pm Thursday December 1, 2016 followed by
Service at 2 pm all at the Eddy-Birchard Funeral Home
Burial at the Osawatomie Cemetery