KENNETH LEE HOLLOMAN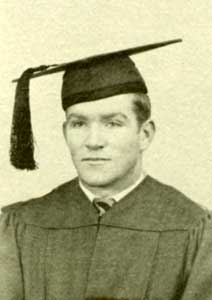 CLASS OF 1948
August 24, 1929 - August 16, 2017
Visitation 1-2 pm Sunday, September 24,
followed by Service at 2 pm,
all at Eddy-Birchard Funeral Home.
Kenneth Lee Holloman, 87, of Osawatomie, KS, died Wednesday, August 16, 2017 at his home.
Kenneth was born September 24, 1929 in Osawatomie, Kansas. He was the youngest of fourteen children born to Virgil Mabron II and Grace Lodie (Troxel) Holloman. He grew up and attended school in Osawatomie, graduating with the Osawatomie High School Class of 1948.
After high school, Kenneth earned a scholarship to play football for Santa Rosa University in California. He played tight end until an injury ended his football career. He moved to Long Beach, CA, to live with his brother Ray and started working for Ford Motor Company on the assembly line.
In 1952, Kenneth married Rita Louise Brooks in California. They moved to Osawatomie where they made their home. Kenneth started working for the Union Pacific Railroad as a switchman and then moved up to a brakeman. Together the couple had four children: Rita, Julie, Kenneth L. "Spike" Jr. and Kathy. The marriage later ended in divorce.
On September 23, 1972, Kenneth and Sandra Stainbrook and were united in marriage in Osawatomie, Kansas. Kenneth not only gained a wife but he gained three children: Kim, Dennis and Darin. In 1984 after 32 years of service, Kenneth had to go on disability due to a back injury.
Kenneth was baptized and became a member of the Osawatomie United Methodist Church. He was an active member and helped with the custodial duties while Sandra was the secretary. One of Kenneth's hobbies was wood working. With this passion and skills, he created door harps, pocket watch cases and clocks, among other things. He also liked to gather and crack pecans to sell and give to people. Kenneth came from a musical family and was blessed with the same musical talent. He would play guitar and sing with his brother. He also loved to fish.
He was preceded in death by his parents; brothers Alva, Albert, Virgil, Arlie, Edward, Robert, Ray and William; and sisters Mabel, Beatrice, Elda, Eva and Lila.
Survivors include his wife of almost 45 years Sandra of the home, children Kenneth L. "Spike" (Rhonda) Holloman of Grantville, KS, Rita (Herb) Tiner of Kansas City, KS, Julie Holloman of Kansas City, KS, and Kathy (Donnie) Alberts of Olathe, KS; stepchildren Kim (Roger) Kerr of Osawatomie, KS, Dennis (Sherri) Stainbrook of Baldwin, KS, and Darin (Jody Baker) Stainbrook of Merriam, KS;. twenty-three grandchildren, Josh, Rachel, Amber, Arroll, Aleina, Brandon, Alisha, Tyler, Kendal, Nate, Luke, Brad, Klint, Lance, Blane, Mitch, Ashley, Tina, Tabitha, Amy, Erin, Katie, Lainey, Trevor and Cody; and twenty-one great grandchildren, along with other family and friends.
Cremation
No services planned at this time