JAY R. DOUGLAS, III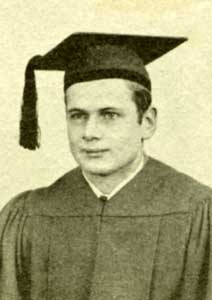 CLASS OF 1948
AUGUST 27, 1930 - NOVEMBER 29, 2003
Jay R. Douglas III, 73, North Little Rock, Ark., an Osawatomie native, died Saturday, Nov. 29, 2003, after a long illness.
He was born in Osawatomie on Aug. 27, 1930, the son of Jay R. II and Jessie F. Douglas. He was raised in Osawatomie and gratuated from Osawatomie High School in 1948.
He was a member of Baring Cross Baptist Church and International Association of Machinists.
A sister, Elizabeth Havens, was among those preceding him in death.
Surviving are his wife, Dorothea "Dottie" Douglas; a son, Jay R. Douglas IV; a daughter, Melinda Moore; and five grandchildren.
A visitation will be from 6 to 8 p.m. Wednesday at Eddy-Birchard Funeral Home in Osawatomie. Graveside services will be at 10 a.m. Thursday at the Osawatomie Cemetery. Roller-Owens Funeral Home of Little Rock is in charge of arrangements.
Memorials may be made to the church or Arkansas Hospice in Little Rock.