WANDA ARLENE BARRETT CANTRELL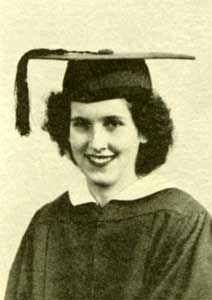 CLASS OF 1948
JANUARY 1, 1932 - NOVEMBER 19, 2016
Wanda Arlene Barrett Cantrell, 84, of Overland Park, Kansas, passed away on November 19, 2016 at Kansas City Hospice House, from cancer.
Wanda was born January 1, 1932, in rural Osawatomie, Kansas to Ruth and Verlie Barrett. She was married to Dale Cantrell on March 23, 1952. She graduated from the Osawatomie High School with Honors in 1948. She was employed as a secretary most of her working years for First General Adjustment Bureau and next The US Department of Health, Education, and Welfare, later called Public Health Service. She joined the Methodist Church while living in Pittsburg and remained a Methodist until death.
She was preceded in death by her parents and two brothers.
Wanda is survived by her husband, Dale; three children, William, Edward, and Ellen; 6 grandchildren; and her brothers, Eldon Barrett and Robert Barrett.
Visitation Friday, Nov. 25, 7-9PM, at Johnson County Funeral Chapel. Funeral service Saturday, Nov. 26, 1PM, at Valley View United Methodist Church.
Interment will follow at Johnson County Memorial Gardens, 11200 Metcalf Avenue, Overland Park, Kansas.
Memorial contributions may be made to Valley View United Methodist Church, The Shriner Children's Hospital, or the charity of your choice.
Visitation: NOV 25, 7:00 PM - 9:00 PM
Johnson County Funeral Chapel
11200 Metcalf Ave.
Overland Park, KS
Funeral Service: NOV 26, 1:00 PM - 2:00 PM
Valley View United Methodist Church
8412 W 95th St
Overland Park, KS, US, 66212