ROSE ELLA MASTERSON TROXEL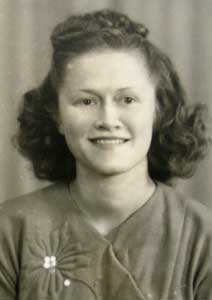 CLASS OF 1947
NOVEMBER 23, 1928 - JUNE 21, 2016
Rose Ella Troxel, age 87, of Osawatomie, KS died Tuesday June 21, 2016 at Life Care Center of Osawatomie.
Rose Ella was born on November 23, 1928 in Freeman, Missouri and was the older of two children born to Ernest and Jessie Josephine (Lash) Masterson. When Rose Ella was one years old the family moved to Osawatomie, where she attended school and graduated with the Class of 1947.
After high school Rose Ella went to work at the Osawatomie State Hospital as an aide, caring for patients.
On April 26, 1952, she married Billy Martin Troxel who was in the military and was stationed in El Paso, where Rose Ella moved to be with him. When Billy got called to active duty overseas, Rose Ella decided to come back to Osawatomie to be closer to her family.
Together Billy and Rose Ella had four sons; Perry, Russell, Rex and Michael. Other than working at the State Hospital when she was freshly out of school, Rose Ella's primary job was taking care of her home and her children.
Rose Ella had a tremendously huge heart and took pride in caring for loved ones and those in need. Being a woman who loved to cook, and who was known for her sweet breads, she never hesitated to feed anyone who came to her home needing help or a meal. Constantly having a garden stocked with tomatoes and various other vegetables, Rose Ella also loved flowers, plants and rose bushes that she took pride in planting.
Rose Ella's love and compassion shined brightly through her warm and inviting smile that was recognized throughout her life by her friends and family as well as the other residents at Life Care Center.
Rose Ella was preceded in death by her husband Billy, her son Rex Troxel as well as her parents: Ernest and Jessie Josephine and she is survived by her sons, Perry Troxel of Osawatomie, Russell Troxel of Osawatomie, and Michael Troxel of Osawatomie, her brother Howard (Arleta) Masterson of Melvern, KS. Ten Grandchildren, Chastity, Shane, Lexi, Sabrina, Hailey, Caitlin, Megan, Bryan, Danny and Kevin, and 6 great grandchildren; along with many other family and friends
Visitation: 9-10 am Saturday June 25, 2016 Eddy-Birchard Funeral Home
Service: 10 am Saturday June 25, 2016 Eddy-Birchard Funeral Home
Burial: Osawatomie Cemetery, Osawatomie, KS
Memorial: Miami County Cancer Foundation
Send c/o Eddy-Birchard Funeral Home OsawAtomie, KS 66064