MILDRED MARIE DUNCAN THOMAS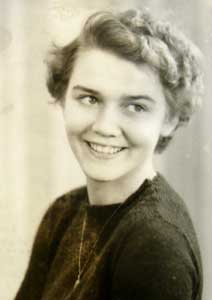 CLASS OF 1947
OCTOBER 18, 1929 - OCTOBER 24, 2017
Mildred Marie "Mickie" Duncan Chitwood Thomas, age 88, of Osawatomie, Kansas died Tuesday, October 24, 2017 at Life Care Center of Osawatomie.
Mildred was born October 18, 1929 in Kansas City, Missouri, but she preferred to be called Mickie. She was the younger of two daughters born to Joseph Forest and Rose Marie (Tinder) Duncan. The family moved from Kansas City to a farm west of Osawatomie in June of 1939. Mickie went to Green Valley grade school from 5th thru 8th grade. She graduated with the class of 1947 from Osawatomie High School and she was the drum majorette all four years of high school.
Mickie married Max D. Chitwood on September 1, 1947. They became the parents of one son, Joe Ellis. They were divorced in 1951. She worked at the Osawatomie Hotel Coffee Shop, 6th Street Café and Marshals Café.
Mickie married William E. "Bill" Thomas in 1952. They lived in the country where Mickie raised Boston Terriers until 1959 and eventually settled in Osawatomie. Bill worked for Fluors and Taylor Forge and they both enjoyed farming and raising and selling the Bostons. Bill died September 17, 1992.
Mickie loved life. She would dress up as the Peanut's character Snoopy to entertain children of all ages. She loved hugging people and never knew a stranger. Mickie loved to dance and tap danced in every Fox Movie Theatre in Kansas City and all the county fairs in the area when she was young. She was once considered for a Shirley Temple movie for her tap dancing. Mickie was still tap dancing up until 2014.
Mickie also learned to play piano by ear at a young age. She enjoyed playing piano for children services, at nursing homes and at church. Mickie also loved writing gospel songs and going with Shirley and Hollis Hunt to entertain at the Senior Center and various other places.
Mickie went on many trips over the years with her sister Betty, good friend Helen Brand and other First Option Bank VIP Club members, her favorite being the trip to Alaska. She wanted to live there and raise the sled dogs and make that trip with the races. She was a member of the Victory Baptist Church, lifetime member of the VFW Auxiliary and past secretary of the American Legion Auxiliary.
Mickie had a very dear friend in her life, Delbert Naylor, whom she met when she was ten years old. They were reunited many years later after both their spouses had died. They spent time together playing music and visiting together after all those years.
Mickie is predeceased by her parents, husband, William E. "Bill" Thomas, sister, Betty White, and dear friend Delbert Naylor.
Survivors include her son Joe of North Platte, Nebraska, three granddaughters, Penni (Jamie) Kosmicki, Taylor and Mariah Chitwood, grandson Joseph Chitwood and six great grandchildren.
Visitation 6-8 PM Friday, October 27, 2017 at Eddy-Birchard Funeral Home
Service 11 AM Saturday, October 28, 2017 at Victory Baptist Church, Osawatomie, Kansas
Burial Green Valley Cemetery Osawatomie, Kansas
Memorial Alzheimer's Foundation may be sent c/o Eddy-Birchard Funeral Home, P.O. Box 430, Osawatomie, KS 66064