DONALD LANNING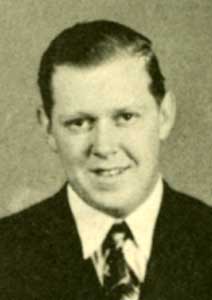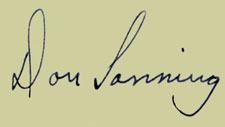 CLASS OF 1946
JULY 14, 1928 - OCTOBER 27, 2001
Donald LeRoy Lanning, 73, North Kansas City, MO, a former Osawatomie resident died October 27, 2001 in his home.
He was born July 14, 1928, in Winfield, KS son of Paul Lester and Vera Marie Goodrich Lanning. He graduated from Osawatomie High School with the Class of 1946.
After his graduation, he worked in his father's business, Lanning Music Shop in Osawatomie, selling Baldwin pianos, organs and various band instruments.
He and Helen Lorraine Hartford were married July 2, 1951 in Osawatomie.
In 1961 he began a 22-year career with the Kansas City, MO Police Department and spent many of those years as a detective. He retired in 1983.
Mr. Lanning served with the U.S. Army Reserve in Osawatomie and the Naval Reserve in Olathe.
His memberships included the McMurry United Methodist Church of Claycomo, MO and the Fraternal Order of Police. He was a former member of the IOOF where he had served as an officer.
Those preceding him in death were a brother, Paul Lester Lanning, Jr., and a sister, Helen Punshon.
Survivors include his wife, Helen Lanning of the home; three sons, Donald Lee Lanning of Richmond, MO, Paul Bruce Lanning of Kennett, MO and William Allen Lanning of Hot Springs, SD; a sister, Elizabeth Ann Kraly of Gladstone, MO; five grandchildren; and three great-grandchildren.
Services were at Mount Moriah Terrace Park Funeral Home in Kansas City, MO officiated by Rev. Larry Linville. Soloist was Charles Drake. Pallbearers were Aaron Lanning, David Lanning, Daniel Lanning, Jeremy Lanning, Steven Punshon,D Donald Lake, John Hartford, David Manco, and Jordan Lanning. Burial was in Osawatomie Cemetery.