EILEEN CHURCHILL SPEARS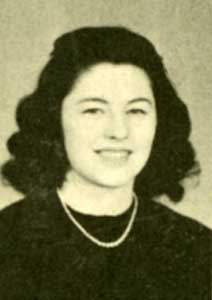 CLASS OF 1946
SEPTEMBER 7, 1928 - OCTOBER 27, 2017
Eileen Churchill Spears age 89, of Osawatomie died Friday, October 27, 2017 at the Lifecare Center of Osawatomie.
Eileen was born September 7, 1928 in Osawatomie, Kansas to John Joseph and Helen Louisa (Jackson) Churchill. She grew up in Osawatomie, and graduated from Osawatomie High School with the class of 1946. During high school, Eileen started taking classes at Ursuline Academy and after transferred to Washburn University where she was a member of Zeta Tau Alpha sorority and obtained a Bachelor of Arts degree. She continued her education at the University of Kansas where she graduated with a Master's in Social Work.
On August 22, 1953 Eileen married George J. Frolik, Jr. in Kansas City, Missouri. The couple lived in Shawnee, KS and together had two children, Richard and Suzanne (Suzy). The family moved to Hot Springs, AR where George tragically passed away on June 10, 1961.
Eileen, with two small children, moved back to Osawatomie where she found work as a secretary for the Osawatomie Chamber of Commerce. In 1967, she went to work for the State Hospital. She worked there as a psychiatric social worker for many years before retiring in the early 1990's. Raising two children as a single parent, Eileen worked hard and made many sacrifices to provide a happy and loving home for her children. Eileen married John "Jack" Spears in June of 1974 in Osawatomie where they made their home.
Eileen was a person who cared for people. Her greatest gift of all was laughter. She loved being surrounded by her family. Eileen never missed a school program or sporting event where her grandchildren were involved. Around the holidays the family would all get together and Eileen would lead the grandchildren in baking Kolaches, a tradition that will be handed down for many years. She was a warm-hearted person; always giving and thinking of others before herself. Eileen was proud of her Irish heritage. She also enjoyed watching classic movies, listening to Frank Sinatra and reading a good mystery. However, according to family her greatest hobby was her family.
She was a devout Christian and member of the First Presbyterian Church of Osawatomie for many years, serving as a Ruling Elder and Clerk of the Session. She was involved in the United Presbyterian Women's Group. She was also a member of Miami County Hospital Women's Auxiliary, Business and Professional Women, and the American Association of University Women.
Eileen was preceded in death by her parents, and two husbands.
Survivors include her children: Richard Frolik of Overland Park, KS, Suzanne "Suzy" (Arlen) Wilcox of Paola, KS. Grandchildren: Clint (Shannon) Wilcox, Nevada, TX, Emily (Jeff) Reece, Hutchinson, KS, Mallory (Brad) Green, Paola, KS and great grandchildren Parker Wilcox, Madelyn Green and another great granddaughter on the way, along with many other family and friends.
Visitation 10-11 AM Tuesday, October 31, 2017
Service 11 AM Tuesday, October 31, 2017 all at First Presbyterian Church in Osawatomie
Burial Osawatomie Cemetery
Memorials are to: First Presbyterian Church or Glaucoma Research Foundation and may be sent c/o Eddy-Birchard Funeral Home P.O. Box 430 Osawatomie, KS 66064