BARBARA WEAVER CEDENO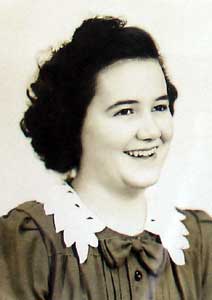 CLASS OF 1945
FEBRUARY 19, 1927 - MARCH 6, 2006
Barbara E. Cedeno, 79, of Pittsburg, died Monday, March 6, 2006, as the result of a motor vehicle accident east of Pittsburg.
She was born Feb. 19, 1927, at Osawatomie, to Harley D. and Grace Jones Weaver. She attended schools in Osawatomie and graduated from Osawatomie High School with the Class of 1945. She later attended Pittsburg State University.
On Feb. 19, 1955, she married Epitacio L. 'Pat' Cedeno at Our Lady of Lourdes Catholic Church in Pittsburg. He survives at the family home.
She was employed at the Census Bureau; proofreader for the Morning Sun; para professional for USD 250; and most recently was a proofreader for the Steering Wheel Publication.
She was a member of the Our Lady of Lourdes Catholic Church, where she was active in several church committees; she was a volunteer reader at St. Mary's Elementary school's second grade.
In addition to her husband, she is survived by three sons, Dr. Philip A. Cedeno and Patrick J. Cedeno, both of Pittsburg, and Anthony L. Cedeno of Knoxville, Tenn.; a brother, Donald E. Weaver of Osawatomie; a sister, Irene Wikle of Lees Summitt, Mo.; and eight grandchildren.
She was preceded in death by a brother, Lawrence E. Weaver and a grandson.
Mass of Christian burial will be 10:30 a.m. Friday at the Our Lady of Lourdes Catholic Church with Fr. Thomas Stroot as celebrant. Burial will follow in the Highland Park Cemetery. The parish rosary will be recited at 7 p.m. today at the Brenner Mortuary, where the family will receive friends following the rosary until 8 p.m. Friends may call at the mortuary after 11 a.m. today.
Arrangements are under the direction of the Brenner Mortuary, 114 E. Fourth St., Pittsburg.