HOMER LOUIS 'SAM' LANDERS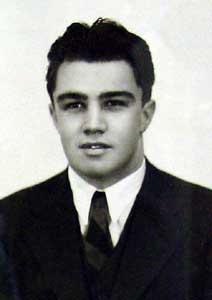 CLASS OF 1945
DECEMBER 11, 1927 - JULY 14, 2009
Homer Louis "Sam" Landers, age 81, a resident of 1401 E. Charles, Fort Scott, Kansas, died Tuesday, July 14, 2009, at Medicalodge of Fort Scott. He was born December 11, 1927 in Kansas City, Missouri, the son of Roy Lee Landers and Mary Falkner Landers. He graduated from Osawatomie High School with the Class of 1945. Sam was a veteran of the Army Air Force. He married Marilyn Vanseth on October 1, 1972, in Minneapolis, Minnesota. He worked earlier for the railroad and was retired as a bartender. He was a member of the First Presbyterian Church.
Survivors include his wife, Marilyn, of the home; three daughters, Judy Freiderich and husband Philip, Joan Page and husband Rodney, all of Fort Scott, and Debra Hoyle and husband, Gene, Thornton, New Hampshire. Also surviving is a sister, Verna Millard, Livingston, Texas; eight grandchildren and fifteen great-grandchildren.
There was cremation with private family memorial services at a later date. Arrangements are under the direction of Cheney Witt Chapel, 201 S. Main.