TERESA McDONALD ELLWOOD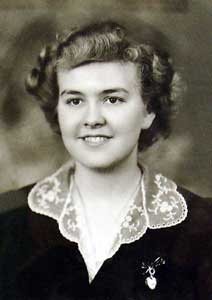 CLASS OF 1944
OCTOBER 8, 1926 - APRIL 1, 2017
NORFOLK — Services for Teresa M. Ellwood, 90, Norfolk, were held Tuesday at the First Congregational United Church of Christ in Norfolk. The Rev. Jacqueline Perry will officiate. Burial was at Prospect Hill Cemetery.
She died Saturday, April 1, 2017, at the Heritage of Bel Air in Norfolk.
Teresa Mae was born Oct. 8, 1926, in Hugoton, Kan., to her parents, Leslie and Minnie (Shields) McDonald. She graduated from Osawatomie High School in Kansas. Following graduation from business school, Teresa was employed as a court reporter for the State Commission of Revenue and Taxation in Topeka, Kan.
On June 27, 1948, Teresa married Milton Ellwood in Meade, Kan. In 1956, they moved to Norfolk, where she was employed at Ameritas Insurance Company, Nebraska Harvestore Systems and US Bank for 30 years.
Teresa was a member of Chapter HU PEO. She was a faithful, long-time member of the First Congregational UCC, where she served on various committees, taught church Sunday school and participated in Vacation Bible School. She had a genuine concern and love for people.
She is survived by her daughter and son-in-law, Allison and Dale Papstein; grandchildren Jamie and Derek Papstein and Chad Ellwood; beloved nieces and nephews; and a host of friends.
Teresa was preceded in death by her spouse, Milton; son Randy; her parents; and two brothers.