RUTH EMMA HAYES CANNON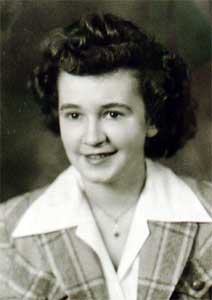 CLASS OF 1944
MARCH 8, 1926 - FEBRUARY 20, 2013
Ruth Emma (Hayes) Cannon age 86, of Osawatomie, KS passed away Wednesday, February 20, 2013 at the Olathe Medical Center, Olathe, KS.
Ruth was born March 8, 1926 on her parent's farm in rural Osawatomie, KS. She was the younger of two children born to Henry Andrew "Hank" Hayes and Sybil Elizabeth (Snyder) Hayes.
Ruth grew up and attended the Osawatomie Schools graduating with the class of 1944 from Osawatomie High School.
From 1944 thru 1949 Ruth had been a local Osawatomie business book keeper and was employed at the American State Bank of Osawatomie.
Ruth was married April 17, 1949 to Kenneth Davis Cannon in the First Baptist Church in Osawatomie. They made their home in Osawatomie and became the parents of four children. She lived in their same home for fifty-two years, from 1961 thru 2013. Kenneth went to be with the Lord December 30, 2010.
Ruth loved her family and home. She was a devoted wife and a nurturing and loving mother, grandmother and great-grandmother. She was a member of the First Baptist Church of Osawatomie. She taught Sunday School there for many years and was a member of the MERA Class. She was also a member of the Rebecca Lodge, member of the Silver Link Lodge and Missouri Pacific R.R. women's organization.
The family loved to fish and took many vacations traveling to the Ozarks, Minnesota and Arkansas to go fishing. Ruth was an accomplished seamstress, a "green thumb" flower & vegetable gardener, baker & cook. She loved to hunt for morel mushrooms with her family in spring. She was a crossword puzzle enthusiast.
She was preceded in death by her parents, an infant daughter, her husband Kenneth, one brother, Charles H. Hayes, son-in-laws, Steve Childs and Lee Emery.
She is survived by her four children:, John Cannon of Parsons, KS, Glen Cannon (Lisa Ann) of Osawatomie, KS, Elaine Childs of Osawatomie, KS and Lisa Bartlett (Ted) of Lane, KS. Four grandchildren: Amy Hall (Shane), Emily Manning (Kenneth), Sarah Logan (Dallas), Matthew Emery (Ashley Montgomery, fiancé) and one step grand daughter Amy Lynn Childs. Ruth had five great grandchildren: Emma and Claire Hall, Tyler, Hannah and Isaac Manning and two step great grandchildren, Blake VanDonsel and Brianna Arnold.
INSTATE: 1-8PM THURSDAY, FEBRUARY 28th - EDDY-BIRCHARD CHAPEL
VISITATION: 11AM-12PM FRIDAY, MARCH 1st FIRST BAPTIST CHURCH 8th & BROWN - OSAWATOMIE.
SERVICE: NOON FRIDAY, MARCH 1st ALSO AT THE FIRST BAPTIST CHURCH - OSAWATOMIE.
BURIAL: BEAGLE CEMETERY - BEAGLE, KS.
MEMORIALS: SPECIAL OLYMPICS
Memorials may be sent in care of Eddy-Birchard Funeral Home P.O. Box 430 Osawatomie, KS. 66064