DOROTHY ALICE BUSSELL LANDRY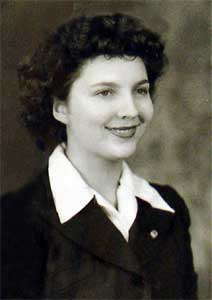 CLASS OF 1944
JULY 3, 1926 - MARCH 7, 1995
Dorothy Alice Landry, 68, longtime resident of Osawatomie, died Tuesday, March 7, 1995, at the Olathe Medical Center.
She was born July 3, 1926, in Linn County, one of four children born to Larkin Lewis and Alice Nettie Mallory Bussell. When she was a child, her family moved to Osawatomie. She grew up there and attended the Osawatomie schools, graduating with the Class of 1944.
After graduating from high school, she moved to Pittsburg to work for the State of Kansas. It was there that she met Chester David Landry. They were married Sept. 21, 1947 at Hyde Park, Mass. They made their home in Boston until 1951 when they moved back to Osawatomie to make their home.
Mrs. Landry went to work at Osawatomie State Hospital as a secretary in March 1951. She worked at the Hospital until she retired in 1986 after 35 years of service.
She also was co-owner of Landry Standard Service, which she and her husband purchased in 1962. They sold the business Jan. 1, 1986. Mr. Landry died Sept. 6, 1986.
She was a member of St. Philip Neri Catholic Church in Osawatomie. She served on the board of directors at the Osawatomie Senior Center.
Others preceding her in death were a sister, Lillian Bussell.
She is survived by her daughter, Cynthia Lewis of Osawatomie; her parents, Larkin and Alice Bussell of Osawatomie; a brother, J. C. Bussell of Shelbyville, Texas; and a sister, Wilma Shores of Fort Scott.
The funeral Mass was at 10:30 a.m. Friday at the church, with the Rev. Earl Dekat officiating. Ruth Lombard sang "Ave Maria" and "The Lord's Prayer", accompanied by Dorothy Ruby.
Burial was in the Osawatomie Cemetery under the direction of the Eddy-Birchard Funeral Home of Osawatomie. Pallbearers were Richard Courtney, Rick Shores, Ben Polen, William Hall, Clifford Stephens and Olin Hime.
Memorials may be made to the Osawatomie Senior Center.