CLOMAN DENNISON WEAVER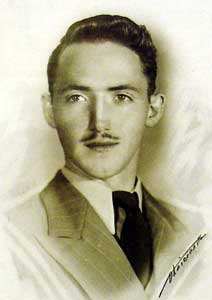 CLASS OF 1943
MARCH 6, 1924 - SEPTEMBER 10, 2016
Cloman Dennison Weaver, age 92, a lifelong resident of Osawatomie, Kansas, died Saturday, September 10, 2016, at the Promise Skilled Nursing Facility in Overland Park, Kansas.
VISITATION: 6-8 pm Friday, September 16, 2016
SERVICES: 1:30 pm Saturday, September 17, 2016 both at the Eddy-Birchard Funeral Home.
BURIAL: Osawatomie Cemetery.
MEMORIALS: First Baptist Church of Osawatomie.
Cloman was born March 6, 1924, in rural Osawatomie, the eldest of two sons born to Alton DeWitt and Lola Josephine (Huck) Weaver.
He attended school in Osawatomie and graduated from Osawatomie High School with the class of 1943. He was an honorary member of the class of 1942, of which he would have graduated, but did not due to work keeping him from attending school. One of his passions in school was the school newspaper. He started the school newspaper when he was in Junior High. Throughout the remainder of his school years, h e worked diligently with the other journalists to get the stories written, the type set, and the paper published on time. Also, as an eighth grader, he was editor-in-chief of the 1937-1938 yearbook.
Cloman worked from a very young age and learned to respect and love the meaning of earning a wage and the character it built in a person. At the age of 14 and 15 he worked for the Osawa Theater in Osawatomie as a projectionist. He also traveled taking the roadshow movies to several small towns in the area, including Olathe and as far away as Platte City, Missouri. Sleeping in his vehicle and returning the next day to only go back to work and do it all over again. He also worked for a small newspaper in Osawatomie, known as Snap Ads, setting type and other various duties. He later was promoted to oversee all the other young teenagers who worked there. Cloman also worked at the family business, Weaver Oil Company, on 6th street in Osawatomie, which his father opened after World War II. After graduation, he went to work for the railroad for a short time, working in the office as a clerk.
Cloman was a natural entrepreneur and was always planning a new venture. The family business expanded from gas, oil, and tires to selling appliances. They later moved the appliance business to its own store in downtown Osawatomie. 1954 was an important year for Cloman. He oversaw the construction of the new building to house the growing appliance business, which now included furniture. Most importantly, however, on December 5, 1954, he and Lucille Ann Waller were married at the First Baptist Church of Osawatomie. The couple would have been married 62 years this December.
The young couple welcomed their first child, Julie, in 1960, and the family continued to grow for the next few years with the addition of daughters, Heather and Paula, and finishing with son, Kent.
Weavers' Appliance store was a success due to Cloman's tireless effort. He even sold televisions before Kansas City's first TV station went on the air. He always knew when a great opportunity was in front of him. He and Lucille won many tropical vacations, by his selling more appliances and televisions than other retailers, which he shared with employees and family.
Cloman was a man of vision, and with his hard work and determination, he expanded into many areas of real estate development in Miami County and surrounding areas, including Burlington, Kansas. He was always planning something new to build, expand or develop. Cloman never retired. In fact, just a few weeks ago at the age of 92, he was talking with family about building a strip mall in the area. He was truly a visionary to the end.
He enjoyed taking his family on trips and vacations. The Missouri Ozarks, Arkansas, Oklahoma, and Texas are some of the states they enjoyed visiting. He always made sure his children had a learning experience at any event he took them to, and with his love of classical music the Kansas City Philharmonic was of course on that list, the most memorable being their performance of Battlestar Galactica music along with a laser light show. Starlight Theatre, the Waldo Dinner Theatre, the Nelson Art Gallery, the Ice Capades, and to see the movies Amadeus and Star Wars when they premiered, to name just a few others.
Cloman was always a faithful attendee of his children's events, such as piano recitals, school concerts, theatrical performances, and sporting events, too.
But he also loved to have fun, and teaching all of his children to ride bikes or taking them swimming was high on his agenda. But nothing compared to the thrill he got when he and his younger brother Merle were the Firework Masters for the Osawatomie 4th of July firework display for many years. Cloman loved fireworks and backed his kids in their own fireworks stands for several years.
Cloman was a lifelong member of the First Baptist Church of Osawatomie, serving on the Deacon Board, teaching junior high boys' Sunday School classes, and, after he and Lucille were married, they led the youth group. Additionally, he was a founding member of the local Jaycees (Jr. Chamber of Commerce) organization.
He was preceded in death by his parents, younger brother Merle Weaver in 2005, and son-in-law Randy Smith in 2015.
He is survived by his wife Lucille of the home, his children: Julie Weaver of Osawatomie, Heather (Roger) Strope of Jefferson City, MO, Paula (Rob) McMullen of Spring Hill, KS, Kent Weaver of Osawatomie, and three grandchildren: Samuel, Nathaniel, and Savannah McMullen, along with other family members and a lifetime of friends.