HELEN MARIE SHIVELY SATZLER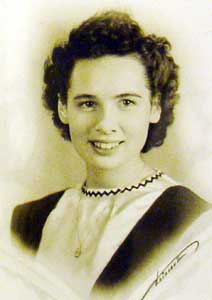 CLASS OF 1943
NOVEMBER 3, 1926 - DECEM ER 15, 2017
Robert Vernon Satzler and his wife of 64 years, Helen Marie Shively Satzler, died within 3 days of each other in Sand Springs, Oklahoma, where they had moved from Topeka in May to be near their daughter. She died on December 15th; he on December 18th, 2017.
Helen Marie was born November 3rd, 1926, to Irl Russell Shively and Celina Verdier Shively, in Osawatomie, Kansas. Her older sister Margaret passed away at the age of 98 on August 24 of this year. She attended Indianapolis country school and graduated from Osawatomie High School in 1943, after which she worked as the secretary to the Superintendent of Osawatomie State Hospital. She then moved to Topeka and supervised a steno pool at Winter General Hospital during WW II. When the hospital closed, the Veterans Administration hired her as secretary to the Chief of Surgery.
A year later, she resigned to attend college, first at Ottawa University, then at Muscogee Oklahoma Junior College, then Kansas University, from which she graduated with a degree in music in 1950. She returned to Topeka, working for Drs. Wiksten and Dickson for 5 years, until she married.
Bob and Helen were members of First Baptist Church of Topeka for 65 years, where she sang in the choir for over 50 years, served on the diaconate and the finance board; he served as deacon, Trustee, and was instrumental in getting the new church built. They were members of the Berean Class, where he served as President for several terms, and she served as song leader for many years and, most recently, as treasurer.
She was a life member of the Sigma Iota Music Fraternity.
Helen became interested in genealogy in the 1970's, and, with her sister, collaborated on writing several family histories. They discovered 15 patriots of the American Revolution in their family line. She joined the Topeka Chapter of the DAR in 1977. She served on several committees and held various offices including Regent in 1994-1995. In 1996, she was convention chairman for the state DAR 100th anniversary, and the chapter 100th anniversary held in Topeka.
Bob and Helen married on May 31, 1953, and they had 3 children, Kyra, Jill and Tim. Kyra and her husband Wayne Hamilton, live in Sand Springs, OK. Jill Silbiger lives in Atlanta, GA, and Tim and his wife Nancy live in Oklahoma City, OK. Grandchildren are Ryan, Trenton, and Shannon Hamilton, Marten, Katie, and Max Silbiger, and Alan and Jana Satzler. They had 5 great-grandchildren.
A joint memorial service was held February 3rd, 2018 ,at First Baptist Church of Topeka.