DOROTHY IRENE SHEEHAN BOHR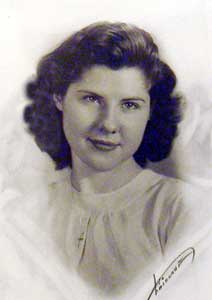 CLASS OF 1943
MAY 5,1925- APRIL 22, 2017
Accompanied by her immediate family, Dorothy Irene Bohr (ne'e Sheehan) quietly passed into eternal rest early Saturday morning April 22, 2017, at Overland Park Regional Medical Center.
Born May 5, 1925, on a dairy farm between Beagle and Osawatomie, Kansas, she was the daughter of John Daniel Sheehan and Anna Charlotte Sheehan (ne;e Kettler).
Dorothy graduated from Osawatomie High School in 1943 and aided the World War II effort as a civilian employee of the U.S. Navy. After the war, she worked as a civilian budget analyst for the United States Air Force Reserve and, starting in 1961, in the Kansas City office of the Federal Aviation Administration.
Working at the FAA, she met her husband, Paul Kent Bohr, whom she married in 1964. She retired in 1965 to start her family, returning to work for the USAFR from 1984-1987. Her husbands career postings took them to Washington DC, Denver (twice), New York and Chicago, before returning to this area and settling in Lenexa in 1987.
She was a long-time member of Holy Trinity Catholic Church in Lenexa, where for years she was a member of the Daughters of Isabella.
Dorothy was a beloved and devoted wife, mother, grandmother, sister, aunt and friend. She was loving, kind, decent, caring, honest, feisty and compassionate. Her cheerful blue eyes twinkled equally brightly, whether she was making a joke or allowing herself to be teased back. She was a staunch Irish Catholic Democrat who, with her sister Liz, rang doorbells to promote the 1960 campaign of President John F. Kennedy. For years, she and Liz lived together on the Plaza in downtown Kansas City and enjoyed entertaining their nieces and nephews. Always independently-minded, she cheerfully remained single until she finally married just the man for her at age 39.
As old as 89, and hobbled by artificial joints in each knee, she would grab her cane, fly halfway across the nation to visit her grandchildren, and relax after her arrival with a bit of bourbon. She was the last of a close, high-spirited brood of sisters whose mother died in 1929 and who looked out for each other growing up on a Great Depression-era farm. Each of them lived to be at least 90 and they enjoyed their last decades residing within ten miles of each other. Throughout her life, her older sisters unfailingly teased her that growing up on the dairy farm, Dorothy was the sister who never had to milk the cows. She never missed a Sunday Mass and prayed the Rosary daily for about the last 20 years of her life, and went to her Maker with a heart full of faith and love, but not fear.
She is survived by her husband of over 52 years, Paul Kent Bohr, of Lenexa; daughter, Barbara A. Beasley (Michael), of Overland Park; and son, Paul Joseph Bohr (Christina), of Washington, DC; grandchildren, Ryan James Adams Bohr and Sofia Elena Adams Bohr; and many nieces, nephews, grand-nieces and grand-nephews.
She was preceded in death by: her brother, John L. (Jack) Sheehan; and sisters, Pauline K. Buckner, Helen M. Henderson, Elizabeth A. Williams and Anna Rosemary Moler.
Visitation was held on Thursday, April 27, at Holy Trinity Church with a funeral mass following at 10:30 a.m.
In lieu of flowers, donations may be made to Holy Trinity Church.
Arrangements: Porter Funeral Homes & Crematory, 8535 Monrovia, Lenexa, KS, (913) 438-6444.