JAMES "JIM" LOREN BUCKMAN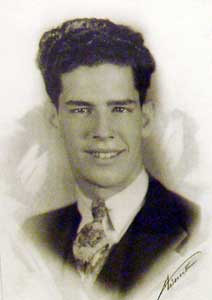 CLASS OF 1943
SEPTEMBER 1, 1925 - DECEMBER 13, 2017
OSAWATOMIE, Kan. James Jim Loren Buckman, 92, achieved his Homecoming to the Lord and his wife of 68 years, on December 13, 2017, at Hedrick Medical Center, Chillicothe, Missouri.
He was born on September 1, 1925, to Lawrence John and Agnes Hazel Sinclair Buckman, in Osawatomie, on the southeast corner of 11th and Pacific.
He is survived by: three of his children and their families; one sister, Lorraine Fields, of Osawatomie; three sisters-in-law, Patricia Woods, of Walnut Creek, California, Connie Williams, of Spring Hill, Kansas, and Lois Ronsick, of Hutchinson, Kansas, along with many nieces and nephews.
He was preceded in death by: his wife, Juanita Gwendolyn Ronsick Buckman; his parents; one son, John Alvin Buckman; one brother, Lawrence Buckman; and one sister, Ilene Maloney
On October 16, 1946, Jim Buckman married Juanita Gwendolyn Ronsick. They were united in marriage at the First Baptist Church, Paola, Kansas.
Survivors include: the oldest son, Jack Loren Buckman and his wife of 46 years, Vickie Sue Cullumber Buckman, of Denison, Texas, and their two children, Cassidae Lynn King and her husband Dennis, of Denison, and three great-grandchildren, Zane, Sadae and Jase and Kyle Misha Buckman, of Portland, Oregon, and two great- grandchildren, Lucy and Micah.
Grandchildren and great-grandchildren of deceased son, John Alvin Buckman: Luke Joseph Buckman and his wife Lindsey Eddington Buckman, of Osage City, Kansas, and two great- grandsons, Layton and Langston; Shanna Suzanne Cook and significant other, Allan Burton, of Centerville, Kansas, and two great-grandchildren, Wyatt and Evan. Tiffany Jane Buckman, of Paola; and two great- grandchildren, Emily and Azayl, John Lawrence Buckman and his wife Jenna Kay Beneke Buckman, of Ottawa, Kansas, Dustin Lawrence, of Olathe, Kansas, and Seth James Buckman, of Osawatomie; step-grandchildren include Christy Birchard, Matt Birchard, Jed Birchard, Kenneth Jarett and Amanda Schulte.
His youngest son, Jeffrey Alan Buckman and his wife of 35 years, Julie Marie Meredith Buckman, of Pleasant Hill, Missouri, and their three children, Meredith Marie Buckman Biggs and her husband William Biggs III, of Lebanon, Tennessee, and one great- grandchild, William IV; Melissa Michelle Daily and her husband Chad Edward Daily, of Peculiar, Missouri, and Mason Mitchell Buckman, of Reno, Nevada.
His only daughter, Janet Lee Buckman, of Lebanon, Missouri.
Jim graduated from Osawatomie High School in 1943 and soon thereafter joined the United States Army. He worked as a telegraph operator while overseas.
Jim was raised in the First Christian Church of Osawatomie, but later became a member of the First Baptist Church of Osawatomie, serving as Deacon and chairman of Building and Facilities committee and many other committees.
At the time of his death, he was the Commander of the Local American Legion Post 204 and a lifetime member of the Osawatomie VFW Post 2258 until it disbanded. He was also a life member of the Garnett VFW Post 6397. He was instrumental in establishing the Osawatomie Veterans Memorial at the corner of 7th and Brown, and helped coordinate Scholarships for students of Miami County veterans.
He was a long term employee of Missouri Pacific (1947 to 1958) and then Bendix/Allied Signal/Honeywell, where he retired in 1988 after 30 years of service. For just shy of 70 years, he was a member of the International Brotherhood of Electrical Workers Local Union 124 and served as a Union Steward. He was a member and chairperson of the National Association of Veteran Railroad Employees and the American Association of Retired Peoples.
He served his community as a Board Member of the Osage Valley Credit Union for many years, Little League Baseball Coach, instrumental in establishment of Little League Baseball Complex on Kelly Avenue, Assistant Boy Scout Leader Troop 106 and coach for Osawatomie girls softball league.
Throughout his life, Jim was an ardent supporter of this countrys military and especially its veterans. He was also an avid sports fan, who spent many hours of his own time to watch or coach his four children. He loved to attend sporting events or watch his beloved Royals, Chiefs and Jayhawks wherever he traveled. And he especially enjoyed having his grandchildren and great- grandchildren around him. He was very active in his church and was always available to assist those in need.
A Celebration of Life was held on December 31, 2017, at the First Baptist Church of Osawatomie, with graveside and military honor services following at Osawatomie Cemetery.
In lieu of flowers, memorials for Jim can be made to the First Baptist Church of Osawatomie.