AVIS DARLENE TYRELL RICCI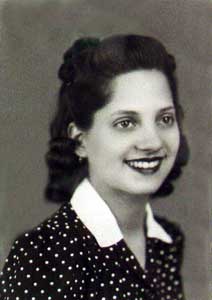 CLASS OF 1942
MAY 13, 1924 - MAY 5, 2009
Avis Darlene Tyrell Ricci, 85, of Chandler, Ariz., died May 5, 2009 while in the care of Hospice of the Valley in Phoenix.
She was born May 13, 1924, in Osawatomie, to Bob and Ida Rosetta Tyrell. She was a 1942 graduate of Osawatomie High School.
She married Jack Smith, and they became the parents of three children. He preceded her in death.
She was a real-estate broker for more than 30 years in Wichita.
She was preceded in death by a brother, Harry Russell Tyrell.
She married Raymond Ricci. He survives.
Other survivors include a daughter, Nancy Freeman of Colorado Springs, Colo., two sons, John Smith of Costa Mesa, Calif., and Tyrell "Ty" Smith of Wichita; stepchildren Angela Gothier and John Ricci, both of the Seattle area; a brother, Bill Tyrell of Aurora, Colo.; and several grandchildren and step-grandchildren.
Masses were held in Catholic churches in Seattle, Phoenix and Kansas City.
Graveside services were Oct. 10 in the old Osawatomie Cemetery. She was cremated, and her ashes were placed on her mother's grave.