RALPH SELLMEYER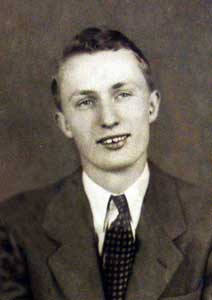 CLASS OF 1942
d. FEBRUARY 27, 2017
Ralph Louis Sellmeyer passed away at his home in Houston on Feb. 27, 2017. He was 92.
Sellmeyer was a devoted husband, father, son, and friend. Until the very end of his life, he was in contact with former students from his career as a college professor. He was known for his sense of humor, his thoughtfulness, his ability to keep in touch with old friends and colleagues, and his pride in having raised four daughters with his wife, Millie.
Sellmeyer taught journalism, advertising, photography, and public relations at Texas Tech University, Midland College, and Missouri State University. Before entering academia, he was editor and advertising manager of the Baldwin Ledger in Baldwin City, Kansas.
Sellmeyer was born in Osawatomie, Kansas, the son of a railroad worker on the Missouri Pacific. After graduating from high school, he briefly went to work for the railroad before volunteering to serve in the Navy during World War II. He was stationed stateside until after the war, when he served in Japan.
After his service, he attended college on the GI Bill, starting at Baker University in Kansas and graduatingfrom the University of Missouri with a degree in journalism. Afterward, he earned a master's in educational administration from the University of Missouri, Kansas City. He met his wife Millie when he waited on tables at her Baker sorority house.
Sellmeyer had been married barely a year, with a new baby and a new master's degree, when he was riding a streetcar and read on the front page of the Kansas City Star that he had been recalled to active duty to serve in the Korean War. He was sent back to Japan, but while he had served as a machinist's mate in WWII, his division officer assigned him to tutor sailors in high school equivalency courses. This was a happy circumstance, since Sellmeyer considered himself a poor machinist.
After the war he worked for a newspaper in Independence, Kansas, and an agricultural paper in Kansas City. For several years he ran a coffee delivery service in Kansas City before becoming editor of the Baldwin Ledger in Kansas.
But Sellmeyer found his true calling when he accepted a job teaching journalism at Texas Tech University, a school he had never heard of when he responded to a job listing.
He joined the Texas Tech Department of Journalism faculty in 1960 and was a key member of Dr. Billy Ross' initial administration in creating the Department of Mass Communications in 1971. Sellmeyer also was the motivating force in creating and developing the department's public relations sequence and forming the student chapter of the Public Relations Student Society of America (PRSSA) in March 1973. The chapter was eventually named the Sellmeyer–Henderson Chapter of PRSSA, honoring Sellmeyer and Jerry Henderson.Sellmeyer served a term as president of the Texas Public Relations Association, and in 1998 he wasinducted into the Texas Tech College of Media & Communication Hall of Fame. At Tech, he served as associate chairperson, headed the divisions of journalism and advertising, and directed the public relations sequences. During his tenure, he taught more than 30 different courses. He is the author of three books, one on the history of Texas Tech football and two related to journalism education.
After serving Texas Tech for 21 years, Sellmeyer resigned his faculty position in 1981 to become the Allison Professor of Journalism at Midland College in Midland, Texas.
He and Millie retired to Branson, Missouri, and he taught for several years at Missouri State University. Sellmeyer was an avid tennis player into his 80s. He was an Eagle Scout, and he credited scouting with giving him adventure and camaraderie and teaching him discipline. Over the years, Sellmeyer and his wife were active in Episcopal churches in Lubbock, Branson, and Houston, and he volunteered for numerous community organizations.
Sellmeyer was preceded in death by his wife, MildredDahlstrom Sellmeyer, his sister, Mary Lou Sellmeyer, and his brother, Bill Sellmeyer. His survivors include four daughters: Melissa McCoy, Susie Solomon, Sheri Sellmeyer, and Alison Hickey; four sons-in-law: DonMcCoy, Richard Solomon, Barry Kolar, and DavidHickey; five grandchildren: Amanda Gardner, EmilyTaggart, Jonathan Solomon, Katie Meredith, and Christopher Ralph Hickey; and eight great-grandchildren: Jackson and Charlie Gardner; Jack, Ben, and Claire Solomon; Lucy Meredith; and Charlie and Dakota Taggart; his sister Judy Brown and her husband Roger and their family.
Family and friends remembered Ralph at a service March 4 in Houston. A family service will be scheduled in the spring in Missouri.
The family asks that memorials be made to the Ralph Sellmeyer Scholarship at Texas Tech. Contributions can be made at http://www.give2tech.com/foundation/or mailed to Colleen Sisneros, College of Media and Communication, Texas Tech University, 3003 15th St., Lubbock, TX 79409-3082, phone number 806-834-5518. Checks should be made payable to the Texas Tech Foundation, noting the Ralph Sellmeyer Scholarship in the memo line.