GERALDINE NELL MATHERLY PIGGOTT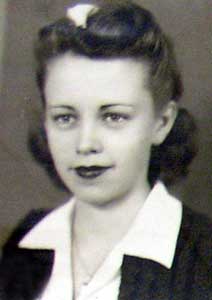 CLASS OF 1942
SEPTEMBER 24, 1924 - SEPTEMBER 15, 2016
Geraldine Nell "Gerry" Matherly Piggott, age 91, of Osawatomie, KS died Thursday September 15, 2016 at North Point Skilled Nursing Center in Paola, KS.
Graveside service: 10 AM Thursday September 22, 2016 at the Osawatomie Cemetery, Osawatomie, KS
Memorials: Humane Society
Send c/o Eddy-Birchard Funeral Home, P.O. Box 430, Osawatomie, KS 66064.
Gerry was born September 28, 1924 in Osawatomie, KS. She was the youngest of three daughters born to Marvin P & Edith Estel (Hubbard) Matherly. Gerry grew up in Osawatomie and graduated with the Osawatomie High School class of 1942.
She had four children and stayed at home to raise them. When they were grown she went to work for the Internal Revenue Service as a collection clerk. Gerry worked for the IRS for 20 years before retiring in 1990. Gerry lived in Ottawa, KS and at Lake Lotawana, MO before deciding to move back to Osawatomie where she grew up, twelve years ago.
Gerry loved cats, they were her babies. Gerry was an environmentalist. She liked to sit outside, watch the birds and feed them. She also loved to shop.
She was preceded in death by her parents, daughter Sherry Ann McArdle and her sister Mary VanHorn.
Survivors include, son James William Piggott of Fort Worth, TX, daughters Gerry Sue Kirkland of KS and Marva Jane Russell of AZ. Her sister Betty Jean Durland of Paola, KS, seven grandchildren, a number of great grandchildren and her cat Jackie O. Along with nieces, nephews, other family and friends.