VERA JEAN LEE McCLINTOCK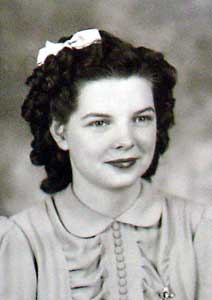 CLASS OF 1942
DECEMBER 17, 1923 - DECEMBER 26, 2017
Vera Jean Lee McClintock, 94, Louisburg, passed away Tuesday, December 26, 2017.
Vera Jean, known as "Jean" and her twin sister, Verna Jane, were born on December 17, 1923, in Louisburg, to Robert E. and Alta Lee.
She moved to Osawatomie at age two. She graduated from Osawatomie High School and then attended one semester at Ottawa University, Ottawa, KS.
She worked at First National Bank, in Louisburg, and met her future husband, Bill McClintock. Bill and Jean were married September 16, 1949, at First Baptist Church, in Louisburg. They lived in rural Louisburg their entire married life. Jean was still living on the garm. There was no other place she wanted to be.
Bill and Jean celebrated 52 years of married life together. They had five children, eight grandchildren, and nine great-grandchildren. Jean devoted her life to being a housewife, mother, and grandmother. Her children and grandchildren were the most important things in her life.
Jean was a member of the First Baptist Church in Louisburg, Her faith was very important in her life.
Preceding Jean in death: her twin sister and brother-in-law, Verna Jane and Bill Spears; her husband, Bill McClintock; and their daughter, Stacy.
Survivors include: two sons and their wives, Bill and Lori McClintock of Centerville, Iowa, Gary and Suzie McClintock, of Sterling, KS; two daughters and their husbands, Marcia and Bill Richards of Lenexa, KS, and Maria and Jim Atlkinson, of Louisburg; eight grandchildren; and nine3 great-grandchildren.
Visitation was held on Friday, December 29, 2017, and funeral services folllowed, at the Louisburg First Baptist Church in Louisburg. Burial was in Louisburg Cemetery.
Memorials may be made to the First Baptist Church or to the American Heart Association.