EVELYN HUNSPERGER READING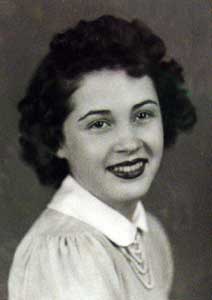 CLASS OF 1942
AUGUST 25, 1924 - JANUARY 12, 2018
OKLAHOMA CITY, Okla. Evelyn Hunsperger Demastus Reading, passed away on January 12, 2018, in Oklahoma City.
She was born August 25, 1924 to George and Thelma Hunsperger in Osawatomie, Kansas.
After graduating from Osawatomie High School in 1942, she worked for the Osawatomie Graphic News and was integral in helping keep the paper running during World War II.
In 1945, Evelyn married James Demastus and they raised three children. The family relocated to Marshalltown, Iowa in 1966, where Evelyn served on the Salvation Army and YMCA boards.
She was an avid reader, loved to play golf, and to partake in art classes. Evelyn was also a 63 year member of P.E.O.
She was active in politics and worked for Senator Charles Grassley of Iowa at his Des Moines office.
In 1989, she married Dr. Donald Reading.
Evelyn was preceded in death by: her parents; sisters, Wylamene and Georgia; as well as husbands, James and Donald.
She is survived by: her three children, Jamie Engel (Richard), of Longboat Key, Florida; Dale Demastus (Karen), of Scottsdale, Arizona, Julie Demastus, of Arlington, Texas; her six grandchildren, Alison Engel, Megan McSheffrey, James Demastus, Laura Calder, Jonathan Demastus, Jenna Rose Demastus; and her great-grandchildren, Jillian McSheffrey, and Skylar Calder.
A family memorial service was held on March 24, 2018 in Osawatomie, Kansas.