EDWARD HAWKINS, JR.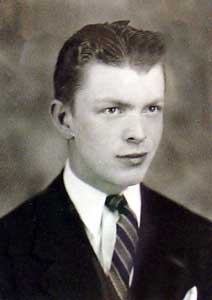 CLASS OF 1942
1924 - DECEMBER 2, 2016
Edward helped his wife Zelda write the following obituary:
Last call has sounded at the Blue Rose Pub. On December 2, 2016, Edward Hughson Hawkins was gathered to his fathers at age 92.
Born in 1924 to Edward and Martha Hawkins, he grew up in Osawatomie, Kansas. The day after high school graduation, he left home for Manhattan, Kansas to attend Kansas State University. WWII was in full force and Uncle Sam decided that Ed's time would be better spent in service to his country, so he enlisted in the U.S. Merchant Marines.
After the war, Ed settled in colorado to "chase single women school teachers who vacationed on dude ranches". He married Charlotte Patterson, a 3rd generation Coloradian with whom he had two children.
Always unconventional, Ed had several careers including artist, animator, film producer, securities analyst, novelist, and as a self-described "itinerant ne-er-do-well with no redeeming social values". In his later years, he was able to achieve his goal of becoming a raconteur, bon and harmonica virtuoso.
Ed is survived by his children, John (Nancy) Hawkins and Virginia (Mike) Dean; grandchildren Jeff (Erin Stewart) Dean, Cody Hawkins, Molly (Ian) Petrocco; brother, Robert L. Hawkins, sister-in-law Lois Hawkins, several nieces, nephews, grand-nephews and grand-nieces and his trophy wife/child bride of 24 years, Zelda (nee Janet Holton) Hawkins. Ed was preceded in death by his parents, first wife, Charlotte, brother John, Nephews John and sister-in-law Marjorie.
Memorials to the Grosvenor House Museum, P. O. Box 63, Jonesville, MI 49250.
Now he belongs to the ages.
Edward was cremated and a date for the memorial is pending.