CALVIN CHARLES COOK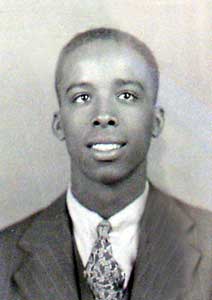 CLASS OF 1942
SEPTEMBER 17, 1923 - MARCH 22, 1992
Calvin Charles Cook, 68, longtime resident of Osawatomie, died Sunday, March 22, 1992, at his home after an extended illness.
He was born Sept. 17, 1923, in Croweburg, Kan., the youngest of three children of Jesse Lee and Mamie Bell Craig Cook. They moved to Osawatomie when he was a young boy. He grew up there and graduated from the Osawatomie High School with the Class of 1942.
After graduation he moved to San Diego, Calif., and worked in the shipyards until he enlisted in the United States Navy in 1943. He was the first black man from Osawatomie to enlist in the Navy.
After his discharge in 1946, Mr. Cook worked for the Missouri Pacific Railroad for nine years. He then worked as a welder for the Behm Co. in Osawatomie and later the Osawatomie State Hospital. He retired in 1980.
He was a member of the Brown's Chapel African Methodist Episcopal Church of Osawatomie.
Preceding him in death were his parents, a brother, Jesse Cook, a sister, Cleo Means, and an infant son, Calvin Charles Cook Jr.
He is survived by his wife, Charlene Cook of the home; three daughers by a previous marriage, Barbara J. Watkins of Baltimore, Md., Sheila Davis of Kansas City, Kan., and Deborah Dillard of Osawatomie; one stepson, Kenneth Charles Gilpatrick; six stepdaughters, Mary L. Woods, Barbara K. Smith, Sharon A. Ross, Debbie L. West, Marcia L. Bauer and Michelle M. Neargarder, all of Louisburg; six grandchildren; one great-grandson; 18 stepgrandchildren; and one stepgreat-grandson.
Services were at 1:30 p.m. Thursday at the Eddy-Birchard Funeral Home in Osawatomie. The Rev. Ed Taylor officiated. Burial was in the Osawatomie Cemetery.