HAROLD CASSIDA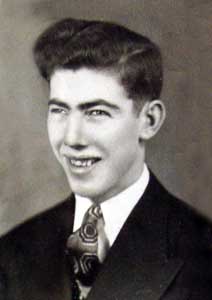 CLASS OF 1942
SEPTEMBER 24, 1923 - NOVEMBER 23, 2016
Harold "Hoppy" Cassida, 93, passed away Nov. 23, 2016, at the Elim Nursing Home in Watertown, Minn., with Sharon, Annie and Ami at his side.
Harold was born Sept. 24, 1923, t Iven D. and Bessie Clary Cassida in Osawatomie where he grew up. He had memories of picking up laundry on his bicycle so his mom could do the laundry and make money during the depression.
Harold graduated from Osawatomie High School in 1942. He married E. Marie Johnston in 1943, and shortly after, went to work for Great Lakes Pipeline (now Williams Brothers Pipeline) where he worked until retiring in 1986.
Harold and Marie made many moves during his years with the pipeline. Their last move was to Alexandria, Minn., in 1957, where they made their home from then on. After retiring, Harold began delivering Meals on Wheels. At one time, he was the only person who delivered meals in the Alexandria area.
Harold was preceded in death by his wife, Marie of 44 years; daughter diane Tvrdik; son-in-law cole Tvrdik and daughter-in-law Janis Cassida. He was also preceded in death by his second wife, Rosemary (Peterson).
Harold is survived by his loving family: children Steven Cassida of Spokane, Wash., Sharon (Michael) Shaw of Watertown, and Gary (Julie) Cassida of Bloomington, Minn.; grand-children Brendan Cassida, Steven (Meg) Tvrdik, Heather Mackenzie, Heide Shaw, Christopher (Tiffany) shaw, Jenny Cassida, Nicole Cassida, Erin Cassida, and Keegan (Jordan) Freer; Sarah Sanders, Tabitha Frieste; great-grandchildren Tyree McGee, Bradyn Mackenzie, Kaidyan shaw, Colton Shaw, Patrick Tvrdik, Adelikne Tvrdik, Josephine Tvrdik and Rowan Freer.
Harold is also survived by the numerous friends he made wherever he lived. He will be missed by all who knew him.
The family wishes to thank the entire staff at the Elim Nursing Home who became like second family to us all during the seven admissions Hoppy had since 2001. He loved them all and they loved him, too.
He spent his first Thanksgiving in the arms of Jesus and with Marie. May he rest in peace.
Committal Service will be held at noon Wednesday, Nov. 30, at the Osawatomie Cemetery.