ROY BAKER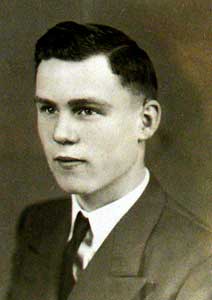 CLASS OF 1942
NOVEMBER 3, 1924 - MARCH 14, 2002
Roy Baker, 77, Overland Park, former Osawatomie resident, died Thursday, March 14, 2002, in his home.
He was born Nov. 3, 1924, in Osawatomie, the son of Roy W. and Nora E. Brannan Baker. He grew up in the Osawatomie area and graduated from Osawatomie High School in 1942.
Mr. Baker served in World War II with the U. S. Army. He was a private in the Quarter Master Corps stationed in England from 1943 until 1945.
He and Elizabeth Ann Moews were married July 27, 1946 in Paola.
Mr. Baker was employed with Hallmark Cards in Kansas City, Mo., as the cutting department supervisor. He retired in 1988 with 40 years of service.
He had been a member of the Holy Trinity Catholic Church in Lenexa since 1956 when the family moved to Overland Park from Kansas City, Kan.
He enjoyed fishing, traveling, playing cards and pool and visiting with Hallmark Retirees at Monday and Wednesday morning coffees.
Those preceding him in death were his wife, Elizabeth, who died in 1997, and an infant sister, Vera Baker.
Survivors include his four children, Mary Schleicher of Pomona, Kan.; Donna Nicholson of Birmingham, Ala., Marjorie White of Phoenix, Ariz., and John Baker of Little Rock, Ark.; a sister, Lorene Hydorn of Osawatomie; six grandchildren; and four great-grandchildren.
The funeral Mass was Monday in the church, followed by burial in Resurrection Cemetery. Arrangements were under the direction of D.W. Newcomer's Overland Park Chapel.
Memorials may be made to Cancer Action, 831 Minnesota, Kansas City, KS 66102 or the church at 13615 W. 92nd St., Lenexa, KS 66215.