BETTY J. MATHERLY DURLAND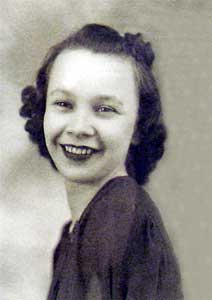 CLASS OF 1941
February 18, 1923 - October 14, 2017
Betty Jeanne Matherly Durland, 94, of Paola, went to be with her loving Lord on October 14, 2017, surrounded by family at North Point Skilled Nursing Home in Paola.
Betty was born on February 18, 1923, to Marvin P. Matherly and Edith Estel (Hubbard) Matherly, in Osawatomie, Kansas.
She married Clifford Oscar Durland, of Paola, on July 20, 1945, and they lived the remainder of their lives together in Paola, where they raised three children.
Upon her marriage to Oscar, she became a member of the First Christian Church of Paola and remained a member until her death. Betty spent many of those years as a Sunday school teacher to the youth of the church, including her grandchildren and Pastor Mike Folsom.
She attended Osawatomie High School and was crowned Miss Osawatomie before graduating in 1941. She moved to Wichita in 1942, finding her independence while working for Boeing during WW II. Her move to Paola occurred upon her marriage to Oscar, where she remained a homemaker until the late 1960s when she became one of the first trained Certified Medication Aids in Kansas. She returned to homemaking to love and care for her grandchildren.
Betty is survived by: her three children, Shirley Durland, Clifford Durland (Roberta) and Melody Smith (Ronnie), all of Paola; nine grandchildren, Rod Crane (Rose Ann), Brad Crane (Tammy), Misty Watrous (Matt), Michelle Mercer (Jay), Tabitha Dysart (David), Michael Smith (Angie), Brandon Durland (Samantha), Bryan Durland and Matthew Smith (Katrina); 21 great-grandchildren, six great-great- grandchildren and several extended family members.
She was preceded in death by: her husband, Clifford Oscar Durland; her parents; and two sisters, Mary (Matherly) Van Horn and Geraldine (Matherly) Piggott; and a grandson, Gene Kelly Crane.
Betty was devoted to her family and could be found at all events in support of her children through great-great-grandchildren.
Always one to support, she never wanted to take the attention away from those she loved. She was an avid reader, often reading three books a week. Betty was a huge Western movie fan and John Wayne was her second love. She loved to travel to see the country she was so proud to live in. Her favorite color was pale blue, just like her beloved husbands eyes. Betty enjoyed the quiet activities of life including drinking tea, bird watching and one-on-one visits with her children and grandchildren. She was always available to help you celebrate, support or for just a quick hug. Her husband, Oscar, was her one true love and she was ready to return to his caring arms. She will be deeply missed.
Betty's life was celebrated in her funeral services at 10:30 a.m. on Tuesday, October 17, 2017, at the Paola Christian Church, 302 E. Peoria St., Paola, KS.
Visitation was immediately before the service, beginning at 10 a.m.
Burial was in Paola Cemetery.
In lieu of flowers, memorials may be made to Paola Christian Church.