ELSIE LEONA LOCH WILSON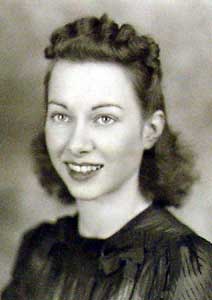 CLASS OF 1941
FEBRUARY 26,1923- MAY 3, 2017
Elsie L. Wilson, age 94, of Garnett, KS, formerly of Parker and Osawatomie, Kansas, died Wednesday, May 3, 2017 at Parkview Heights Nursing Home in Garnett, Kansas.
Elsie was born February 26, 1923 in Rural Beagle, KS. She was the third of five children born to August Frank and Flossie Mae (Matney) Loch. She grew up in the Beagle and Parker area. She attended school at Beagle Grade School, Mound Creek Country School and Buzzard Roost Country School. Elsie graduated from Osawatomie High School with the Class of 1941.
After high school, Elsie worked at the Forum in Kansas City where she met James Hermal Wilson. The couple were united in marriage on October 7, 1943 in Kansas City, Missouri. Jim was in the United States Army and was stationed in Washington. Jim was honorably discharged and they moved back to Beagle. With Jim, together they had four children Carolyn Lee, Rita Anne, Jim Jr. and Marsha Gae. The family moved to Parker in 1952. After 47 years, Jim and Elsie moved to Garnett, Kansas until 2010 when they made their final move to Vintage Park of Osawatomie. Jim passed away in 2012.
Elsie worked as a homemaker when her children were younger and then in 1969 she started working for the Parker Elementary. She was the custodian for 17 years until retiring in 1985. Elsie was very instrumental in starting Tri-KO Inc. and Lakemary Center. She was a lifetime member of the the Beta Sigma Phi, Iota Iota chapter in Parker, KS. She attended the Beagle and Parker United Methodist Church. Elsie was a member of the United Methodist Women.
Elsie was very artistic. She took painting classes after she retired. She also learned to quill and counted cross stitching. Elsie was a very good cook. She could cook dinner for large amounts of people with little resources. Her family's favorite was her fried chicken and she always made rolls for the church dinners.
She was preceded in death by her husband of 68 year Jim Sr., parents, daughters Rita Anne Wilson and Marsha Gae Wilson. Sisters Helen Mae McBride, Norma Jean Stephens and Agnes Katherine Dalton.
Survivors include children Carolyn (Charlie) Dunlop of Parker, KS and Jim Jr. (Linda) Wilson of Grove, OK. Five Grandchildren Douglas (Pam) Dunlop, Darin (Teah) Dunlop, Dierra (Pete) Willey, Travis (Kate) Wilson, and Derick (Michelle) Wilson, Sixteen great grandchildren, Taite, Calla, Lincoln, Parker, Isaac, Michael, Jasmyn, Cordell, Blaine, August, Jacob, Charity, Breckyn Malin, Taylea, Nellie and Rhett Willey and one great great granddaughter Willow. One sister, Sharon (Harold) Stites of Tusan, AZ. Along with other family and friends.
Visitation: 4-6 PM, Friday, May 5, 2017 at the Eddy-Birchard Funeral Home
Service: 10:30 AM, Saturday, May 6, 2017 at First United Methodist Church of Parker.
Burial: Highland Cemetery, Parker, KS
Memorial: First United Methodist Church of Parker may be sent c/o Eddy-Birchard Funeral Home, PO Box 430, Osawatomie, KS 66064.