ROBERT LEE HAWKINS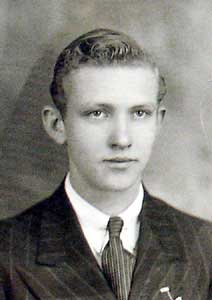 CLASS OF 1941
JULY 4, 1923 - DECEMBER 22, 2017
Robert Lee Hawkins, 94, Topeka, died Friday, December 22, 2017, at Manor Care of Topeka. He was born July 4, 1923, in Wichita, the son of Edward Hughson and Martha Eleanor (Cannon) Hawkins.
After graduating from Osawatomie (KS) High School, he enlisted in the U.S. Marine Corps. While training to be shipped to Guam, he was injured by a rolling machine gun cart and after a long hospital stay he received an honorable medical discharge. Bob then went to work for the North American Defense Plant in Kansas City.
Bob was united in marriage to his high school sweetheart, Marjorie Marie Thompson, on April 15th, 1943, in Osawatomie. To this union were born three daughters: Niki, Nancy, and Pamela.
After the War he worked for the Missouri Pacific Railroad in Osawatomie and later entered the Kansas City Watchmaking College. After graduating Bob and Marge opened Bob's Jewelers in Osawatomie, operating for seventeen years. Bob took an extension course in merchandising at U.C.L.A. After selling the jewelry store he opened a men's clothing store, The Classic Shop. While in Osawatomie he served twelve years on the school board and the Methodist Church board.
He worked for the House of Diamonds as a buyer and diamond grader, Helzberg Diamonds in Kansas City, Des Moines, and Topeka, and for the Zale Guild Division in Topeka and Wichita and later opened a new Corrigans Jewelers in Hurst, Texas and St. Louis, MO before returning to Topeka as district manager of Wolfs White Lake Store. When retiring from the Guild Division he opened BoMar's Jewelers in downtown Topeka for 10 years. Bob was a watchmaker and held degrees of certified diamontologist and gemologist.
Bob was a member of the First United Church of Topeka; Osawatomie Post # 204 of the American Legion; Osage Valley Lodge # 24, AF & AM; A&A Scottish Rite of Freemasonry, SJ, USA, Valley of Topeka; and Arab Shriners.
Surviving are three daughters: Niki Carlson (Gary) of Union, MO, Nancy Smith (Thomas) of Mission, TX, and Pamela Martinek (Dennis) of Silver Lake; eight grandchildren: Scott Carlson (Courtney), Kevin Carlson, Jeff Carlson (Caroline), Brad Carlson (Paige), Kristina Hill (Jerry), Kim Shufelberger, Ashley Young, and Nicole Stafford (Steve); twelve great-grandchildren; and three great-great-grandchildren. He was preceded in death by his wife, Marjorie Marie Hawkins, on January 20, 2010; a grandson, Jeremy Martinek, on June 25, 1989; his parents; and two brothers: Edward Hughson Hawkins, Jr. and John Powell Hawkins.
Funeral services were held on December 28, 2017, at First United Methodist Church, 600 SW Topeka Blvd., Topeka, KS. Interment was at Osawatomie Cemetery, Osawatomie, Miami County, KS.
Memorial contributions may be made to the First United Methodist Church, 600 SW Topeka Blvd., Topeka, KS 66603.
Penwell-Gabel Parker-Price Chapel is assisting the family.