J. F. KELSEY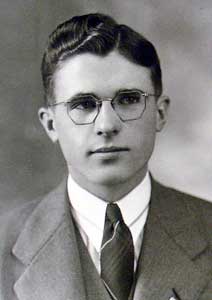 CLASS OF 1940
AUGUST 22, 1922 - NOVEMBER 5, 2000
J. F. Kelsey M.D., 78, Fort Smith, Ark., a former Osawatomie resident, died Sunday, Nov. 5, 2000, in Houston.
Dr. Kelsey was a 1940 graduate of Osawatomie High School and had practiced medicine in Fort Smith with Obstetric and Gynecology Associates from 1953 until retiring in 1986.
He was a graduate of the University of Kansas Medical School of Medicine and was certified by the American Board of Obstetrics and Gynecology.
He was elected to the Alpha Omega Alpha honorary medical society; a member of the American Medical Association; Arkansas Medical Society; past president of the Sebastian County Medical Society; past presdient of the Southeastern Obstetrical and Gynecological Society, and fellow and past chairman of the Arkansas Section of the American College of Obstetrical and Gynecological Society. He served on the medical staff of Sparks Regional Medical Center and St. Edward Mercy Medical Center and was an associate clinical professor of the University of Arkansas for Medical Sciences.
He was on the board of the Mt. Magazine Girl Scout Council; advisor and member of the Board of Review for Boy Scouts; and was also an Eagle Scout. He served as chairman of the advisory board of the Salvation Army and as a member of the board of the Sparks Medical Center Foundation. He worked with the volunteer income tax assistants and was on the board of the Retired Senior Volunteer Program.
He was a member and had served on the advisory board of the First United Methodist Church.
Dr. Kelsey served with the U.S. Army during World War II and the Korean War.
Survivors include two daughters, Margo Roberts of Dodge Center, Minn., and Ellen Jacobi of Grand Fords, N.D.; a son, Dr. Fred C. Kelsey of the U.S.Air Force of Fairfax, Va.; and eight grandchildren.
Memorial services will be at 2 p.m. Thursday in the First United Methodist Church in Fort Smith. Private burial services will be held. Arrangements are under the direction of Putman Funeral Home in Fort Smith.
Memorials may be made to The Memorial Foundation of the church or the J.F. Kelsey Endowment of the Sparks Hospital Foundation in care of the funeral home at 4500 Jenny Lind, Fort Smith, AR 72901.