GEORGETTA HECKART DICKEY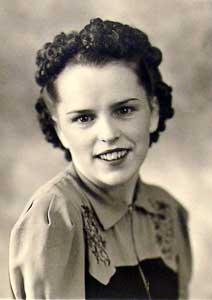 CLASS OF 1940
JANUARY 27, 1922 - FEBRUARY 23, 2017
Georgetta Heckart Dickey passed away peacefully Thursday morning, Feb. 23, 2017.
She lived a full life during her 95 years in our lives.
She was preceded in death by her husband, Harold, after 76 years of wonderful marriage.
Georgetta, born in Osawatomie on Jan. 27, 1922, was one of six children of Velcie and William Heckart.
Georgetta was part of many organizations during her life and loved to read and travel. Some of her happiest moments were when the entire family would get together during special holidays and birthdays. She and Harold traveled to various parts of the word while enjoying their time in Kansas, Oregon and finally in Arizona.
She was preceded in death by siblings Billy, Charles (Chick), Helen and Lucille.
Her surviving sister Joyce Pennock lives in Osawatomie. Georgetta's daughter, Nancy lives in Surprise, Ariz., and son David (Carol), granddaughter, Julie (Travis), great-grandson Jake, and great-granddaughter Alexa reside in Scottsdale, Ariz., and grandson, Jeffrey and Teresa (fiancée) live in Portland, Ore.
Her final resting place will be with her husband at the National Memorial Cemetery of Arizona, Phoenix. A Memorial Service will be held at Camino del Sol Funeral Chapel, Sun City West, Ariz.