BERTHA ALMA EVANS WHITE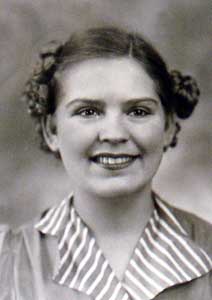 CLASS OF 1940
DECEMBER 27, 1922 - APRIL 30, 2017
Bertha Alma White, age 94, La Cygne, Kansas passed away on Sunday April 30, 2017 at the Louisburg Health Care. She was born in Osawatomie, Kansas on December 27, 1922 the daughter of Jesse Evans and Delvina Bates.
She graduated from Osawatomie High School.
She married Reuben Haight. To this union, four children were born. She later married Homer White, who preceded her in death.
She was a seamstress and a member of the International Ladies Garment Workers Union. Bertha was also a member of the La Cygne Christian Church.
She enjoyed traveling and playing pitch and canasta.
Bertha was also preceded in death by her parents , a sister, Esther Vink, and one grandchild. She is survived by a son, Roger Haight and wife Donnis, three daughters: Shirley Roberts, Barbara Pemberton and husband Herb, and Terry Powell, one sister, Joanna Burchett, nine grandchildren, eighteen great grandchildren and eight great great grandchildren.
Funeral service were May 3, 2017 at the Schneider Funeral Home and Crematory, La Cygne Chapel. Burial was in the Lane Cemetery. Visitation was held from 1 pm to service time at the Chapel.
The family suggests contributions to Ascend Hospice or the La Cygne Christian Church. Arrangements: Schneider Funeral Home and Crematory, La Cygne Chapel.