ALAN EUGENE ARBOGAST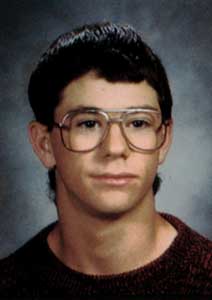 CLASS OF 1994
JULY 12, 1975 - SEPTEMBER 16, 1994
Services for Alan Eugene Arbogast, 301 Reed, Osawatomie, were held Monday in Eddy-Birchard Funeral Home.
He died Friday, Sept. 16, 1994 in the University of Kansas Medical Center, Kansas City, Ks. of injuries suffered in a one-vehicle accident north of Osawatomie on Old Kansas City Road. He was 19.
He was born July 12, 1975 in Paola and grew up in Osawatomie, graduating from Osawatomie High School in 1994. After his graduation, he went to work for Guidon Truck Covers, rural Paola, where he was employed at the time of his death.
Survivors include his mother and stepfather, Laoma and M.D. Smith of the home; his father David Arbogast, Paola; a daughter, Amber Rose Mayo; a brother, Shawn Smith, Olathe; three sisters, Kelly Smith, of the home, Leslie Pope, Osawatomie, and Laurie Smith, Olathe; his grandmother, Rose Arbogast, Prescott; and his stepgrandparents, Mr. and Mrs. Don Smith, Hoisington.
Pastor Richard Landess officiated. Pallbearers were Chris Long, Brian Mersman, Richie Stadter, Clint Graham, Brian Gibson, Jackie Berry, Rick Rogers, and Jack Cole. Burial was in Osawatomie Cemetery. A memorial has been established in his name to the Osawatomie Kid's Wrestling Club.